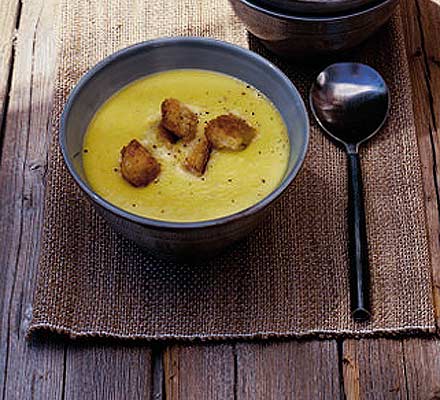 Cream Of Garlic And Saffron Soup
Did you know that saffron is picked from a certain type of crocus flower? Or that the Romans would sleep with expensive pillows stuffed full of the precious spice to get rid of a hangover?
If you love soup but want to create something a bit more regal than minestrone then this is for you!
This delicious soup is a fantastic way to showcase the sweet hay-like flavour of saffron. Although the dish has a creamy texture it's still a healthy choice and great for a light lunch or dinner now we're heading into spring. This recipe serves four to six people. Remember to try and buy Australian garlic for this dish as it is fresher with more flavour than other types. If you'd like to test your soup skills in the kitchen tonight, both local garlic and local saffron can be purchased from A Slice Of Orange, 200 Anson Street, Orange.
What you'll need:
• A good pinch of saffron threads
• 85g butter
• 3 large heads of garlic
• 2 medium brown onions, sliced
• 2 sticks of celery, chopped
• 1 bay leaf
• 2 tbsp dry sherry
• 1.2 litre chicken or vegetable stock
• 3 tbsp risotto or long grain rice
• 142ml carton of double cream
• A squeeze of lemon juice
• Crisp croutons to serve
Method:
Soak the Saffron in 2 tbsp of hot water for 30 minutes.
Melt the butter in a large saucepan. Add the garlic (and it's skin), onion, celery and bay leaf to the pan, stir to coat in butter, then cook very gently, covered for about 15 – 20 mins. The garlic and onions should be soft and tender but not at all browned so keep the heat low.
Uncover and add the sherry, raise the heat and bring to the boil then add the stock, saffron and it's liquid, 1 tbsp of salt and a good grinding of fresh black pepper. Bring to the boil, stir in the rice and simmer gently for 15 mins or until the rice is just cooked. Remove the bay leaf and discard.
Liquidise the soup then sieve back into the pan (this gets rid of any bits of skin). Pour in the cream and reheat until hot. Adjust the seasoning, adding a little lemon juice to taste if liked, and thin with a splash of milk if too thick. Serve sprinkled with croutons.
Cooking Tip! The smell of garlic can be removed by running your hands under cold water while rubbing a stainless steel object.
Photo Source: bbcgoodfood.com