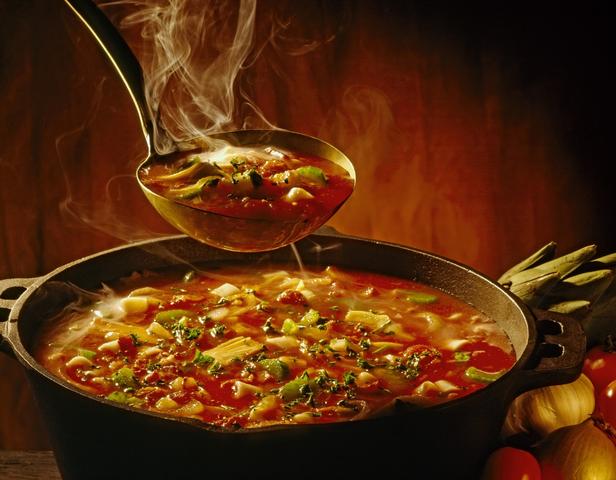 Frosty mornings, Ugg boots and comfort food; these are the icons of winter, a season that traditionally wages war against many waistlines and tempts us all to turn into couch potatoes.
A lot of us generally tend to dial down on the exercise during the cold months, unwilling to motivate ourselves any further than the cosy comfort of our own living rooms, but at the same time we begin to indulge more regularly in foods that are rich and stodgy.
During the fresh days and chilly nights it can be very inviting to reach for the hot apple pie or those extra pieces of garlic bread, but the truth is overeating and overindulgence in comfort foods can affect our wellbeing by bringing our mood down and causing us to feel lethargic, bloated and generally below average.
We are what we eat, and we all need to power ourselves with the right kind of food; food that is exciting and diverse as well as healthy and nourishing. When cooking at home, use foods high in fibre, zinc, iron and vitamins A, B and C. The majority of our diets should be made up of unprocessed foods including legumes, wholegrains, nuts, and fresh fruits and vegetables. Use lean meats, add more veggies and make your own base sauces from scratch. Home-cooked food is generally more diverse, more satisfying and can contain far less sodium than processed food.
Hearty stews, creamy soups and sticky puddings will always be dinner table favourites at winter time and comfort food will always have its' place in our  bellies. As long as we remember to lace these foods with as much nutrition and goodness as we can, we can keep ourselves healthy, happy and well-fed.
Cactus Café & Gallery in Wellington have clothing, gifts, shoes, handbags, wallets, body care product, jewellery, scarves, candles and bits and piece for the garden. They also sell cups and saucers, tablecloths, quirky gift cards and a variety of stationary. They also have products from the popular 'Didgeridoonas' range, and coming up to the end of financial year, a clearance sale is on the cards in the gallery with reduced prices for many amazing items.
In the café, the food is inspired and tasty home-style cooking often using local produce, and there are also some fantastic black board specials. Their perfect winter menu includes things like leek and potato soup, home-made pies and specialty cakes, as well as juices freshly squeezed in-store, pots of tea and coffee by Fish River Roasters.  Al fresco dining is available in the sun speckled courtyard and the fire inside is lit to keep everyone warm on the cold days. So next time you're in Wellington, check out Cactus Café & Gallery, open Tuesday to Saturday from 9am to 5pm.
By Rosi Broom