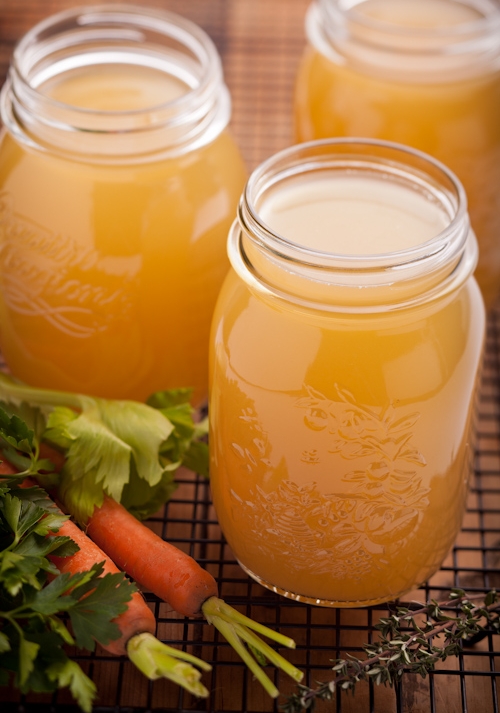 Nothing beats homemade stock. Good quality stock makes a massive difference to the taste and quality of our cooking, particularly winter soups & braises. Stock is the liquid obtained from slow simmering of bones and vegetables. Commercial varieties tend to be salty, have added colorings and flavourings, wheat derived products and many of them, in the small print, will reveal themselves to be chicken, beef or vegetable style stock. Common perception is that making stock is difficult and incredibly time consuming. The complete opposite is true – it is very simple and while the cooking time may be lengthy, the preparation time is minimal and the rewards huge. This is how I make mine:
Use fresh chicken frames, necks or wings or a combination of all of these.
Place the bones into a deep pot and cover with cold water; a ratio of 1:4 is usual.
Add quartered onion, bay leaves, black peppercorns and parsley stalks.
Bring to a simmer, skimming off any foam or scum that rises to the surface.
Keep skimming the stock as required during the cooking process.
Allow the stock to simmer undisturbed and uncovered until the bones are very soft and the liquid is clear – 2 to 3 hours is usual.
While this is happening, just relax.
Carefully strain the stock through a sieve into a heatproof container – remember; keep the liquid, throw away the bones!
Allow the liquid to cool (ideally refriger- ate it overnight) and remove any fat that has risen and solidified on the surface. Stock keeps well for up to 5 days and freezes successfully.
Tips & traps
• Always start with cold water as it makes clearer stock.
• Never add salt to stock; as it cooks and concentrates it will be well flavoured on its own.
• Don't worry if your stock becomes milky just before it simmers; this is normal.
• Never stir the stock or allow it to boil – this makes it cloudy.
• Stock should be made without a lid for maximum evaporation making it more concentrated and better flavoured.
• Don't be tempted to add starchy vegetables like potato or pumpkin to the stock because they make the stock cloudy and susceptible to souring.
• Leave the skins on brown onions to add colour to your chicken stock.
Happy cooking all!
By Lesley Russell.
Trunkey Bacon and Pork Back in 1851 the tiny village of Trunkey Creek was riding the Gold Rush that had exploded all over Australia. Nowadays, it's a mysterious place dotted with mud huts, abandoned mineshafts and is home to only 60 residents. What is lacks in people, however, it makes up in pigs! Trunkey Creek is home to a world famous piggery whose products are available from the butchery in Orange. Here you can find 100% locally grown pork, free from antibiotic and hormone treatment. Plus Trunkey Bacon and Pork are the winners of the NSW State Ham awards!