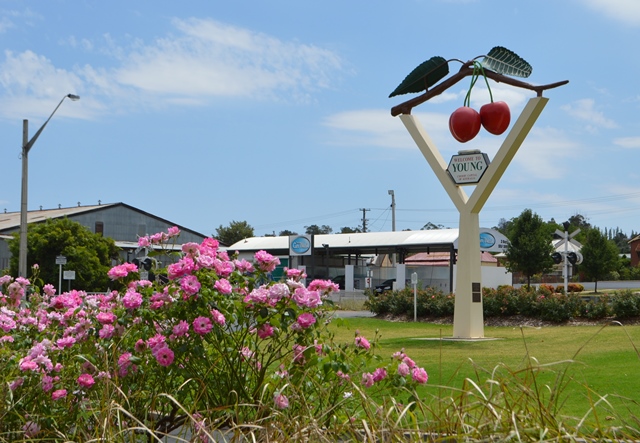 Young may be the town of cherries but its Lambing Flat Chinese Festival is growing in standing as one of this year's must attend events. Steeped in history, the March festival is the second of its kind and is named after 'Lambing Flat' the town infamous for the riots staged by European miners against their Chinese counterparts in 1861. The festival is a celebration of Chinese culture and art and will feature calligraphy, music, re-enactments and most electrifying of all, lion dancers. This world class dance spectacle will captivate crowds with the strength and skill of the performers and form the pinnacle of a thrilling festival program in whirls of vibrant colour and explosions of movement. "It's going to be breathtaking" says Tourism Manager David Newberry, "I urge everyone to get to Anderson Park and enjoy this amazing aerial feat." The Festival will commence on Saturday 21st March.
The Little Cherry Tree contains 'lots of goodies for your little buds and blossoms'. This endearing shop on Boorowa Street is owned by Rachael Moore who has a little family of her own. The name was inspired by the fruit Young is famous for, "We have cherries in Young so that part of the name came from that, original!" joked Rachael, "and the shop came about because I wanted to do something for myself after my baby went off to school. It began online and progressed to what we have now." Stocking Brands such as Penny Scallan Designs, Monstar Kids, Minifin and Tiger Tribe, Little Cherry Tree evolved from a love of finding gorgeous wares.
The Loft Fashion House and Finishing Touch Décor Young are owned by husband and wife, Helen and Greg Walker and stand side by side on Boorowa Street. With over thirty years of experience in retail, the pair have knowledge that encompasses all aspects of home wares. Finishing Touch celebrated its first birthday recently on the 1st March and stocks a range of furniture, lamps, jewellery, handbags and occasional tables. "What makes this shop unique is the huge amount of art from artists around the world we have on offer at reasonable prices" says Greg, "we stock hard to find pieces for the home."
Fragrance Delight Candles is a sweet-smelling shop owned by a sweet lady. Melissa Gallop creates her own natural soy wax candles and melts, along with palm wax pillar candles, votives, salt lamps and oil burners. The shop also stocks scrumptious soaps such as 'champagne and strawberries' and 'black raspberry', tumbled gemstone necklaces, dream catchers, prints and tea lights…everything to create a gentle ambience in your newly perfumed home. Stock is updated regularly meaning there's something new every time you visit! Say hello to Melissa today at 103 Boorowa Street.