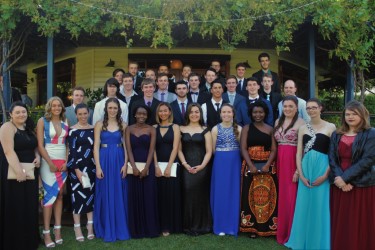 Canowindra High School's Year 12 students finally graduate! After recently completing their HSC examinations thirty four of the students along with teachers, family and friends all came together to celebrate their farewell dinner at Eat Your Greens in Eugowra. After 13 years of schooling together there were many stories and laughs exchanged throughout night. Captains Matt Harrison and Kelly Price spoke on behalf of the year group about their time at Canowindra High School.
Year Advisor Andrew Phelan said, "I am so proud of all of the students progress they have made over the years." Principal Neryle Smurthwaite also congratulated the year group on the evening for all of their achievements. A number of students have already received offers to attend university through a range of early entry programs and others have taken up full-time apprenticeships.
Students must now wait for their HSC results which will be released by BOSTES on the 15th December. Congratulations to the class of 2016 consisting of: Meg Austin, Lachlan Balcombe, Laura Bermingham, Wesley Blair, Brandon Bourke, Logan Bryant, Dyllan Crump, Nikita Currey, Olivia Ford, Riley Frost, Paige Gaffey, Jack Grant, Louis Grant, Toby Grimshaw, Shanna Hampton, Matthew Harrison,
Lewis Hodge, Aramis Keedle, Jordan Kemper, Rhys Maere, John Mallon, Miles McKenzie, Ashley McLean, William Middleton,
Sithatshisiwe Ncube, Thabiso Ncube, Tamonwan Phumthong, Kelly Price, Max Pye, Madison Spencer, Rachael Springall, Mitchell Stanley, Ijumaa Stephenson, Becky Thornberry, Cody Townsend and Brodie Woods.