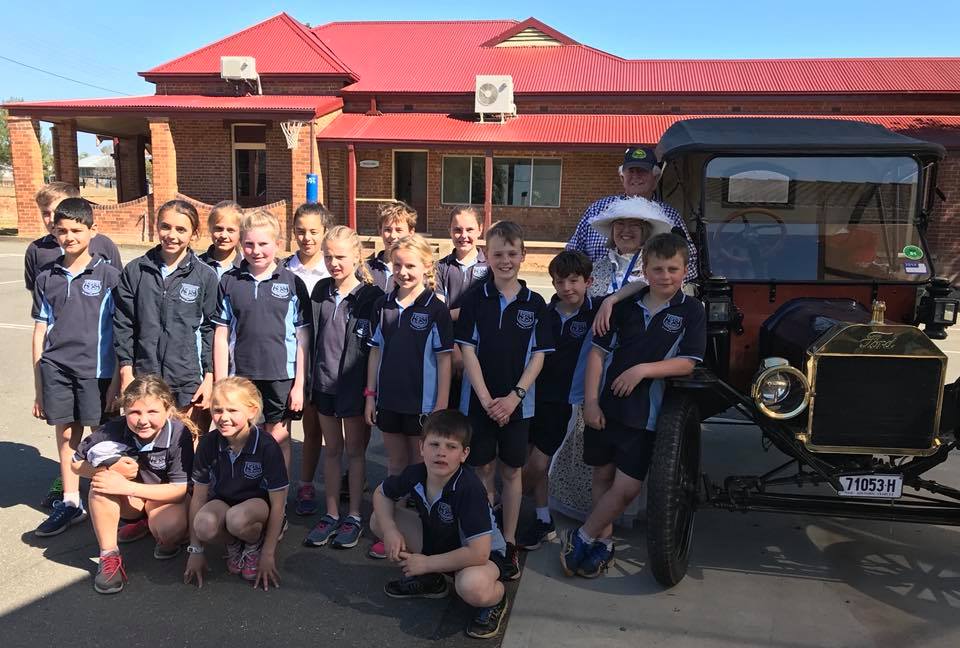 Last Thursday, Gaskill St in Canowindra was a buzz with over 100 cars all over 100 years old from all around Australia visiting our town. The Veteran Car Club of Australia was on a National Rally Tour that was based in Forbes for the week. From the 24th-28th September the amazing old cars travelled to Parkes, Grenfell, Eugowra, Canowindra, Gooloogong, Jemalong Weir and Bedgerabong.
A handful of the passengers in the cars were even dressed in period costumes which added to the excitement of the day. Local businesses enjoyed hosting the visitors for lunch, coffee and shopping. The Stage One and Stage Two students at St Edwards Primary School Canowindra have been studying History this term. They have been learning about then and now and comparing what family life, transport and communication was in the past to present day.
The students were lucky enough on Thursday to have a 105 year old Model T Ford stop at the school for the students to get a closer look. Veteran Car Club members Greg and Jill from Bowral were very pleased to show off their 'jalopy' and the students were most appreciative!
The main highlight of the week for the rally drivers was a Public Display on Wednesday in Victoria Park in Forbes followed by a Gaslight Parade through the Forbes CBD just on dusk. It was an amazing spectacle enjoyed by locals and visitors to Forbes for the occasion.
By Sarah Maynard