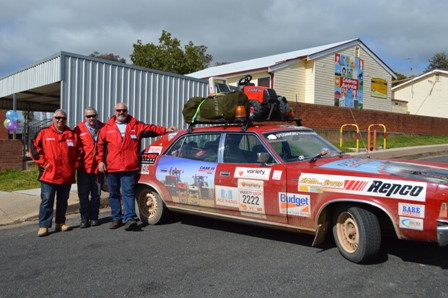 Some of the teams from the Variety Club Bash dropped into the Canowindra Public School on Thursday for lunch on their journey from Melbourne to Cooktown to raise money for sick children. Arriving around midday for lamb rolls, David Ballinger from East Gippslad, Robin Collins and Mark Ballinger both from Horsham rolled into town as part of the rally.
So far, this team have raised $10,000 towards the Variety cause, including the $7,000 required entry fee. The Bash is scheduled to finish up in Port Douglas on Saturday 22 August and David's team said they were really looking forward to enjoying the warmer weather up north.
The Variety Bash started in Craigieburn, just outside of Melbourne on Wednesday and continued onto Coonabarabran on Thursday night. A lot of the teams taking part in the 2015 Variety Bash are "repeat bashers" who are at
least on their second run. One of the Bashers on the expedition had completed over 20 Variety Bash events in total which is an incredible achievement.
The Variety Bash is Australia's largest motoring event and allows participants the chance to visit rural communities they would otherwise not experience.