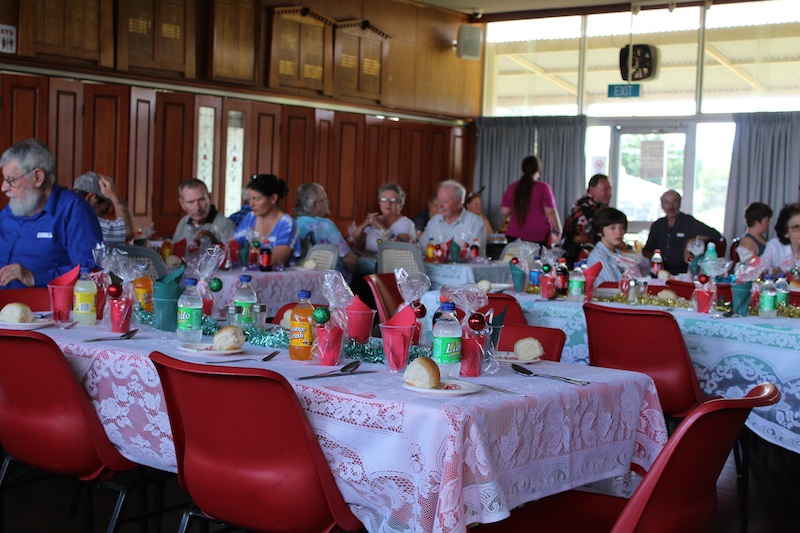 The Canowindra Christmas Day Lunch was another great success with 63 people attending the event. Guests were spoilt for choice with freshly prepared savouries, salads, turkey, ham and desserts with tea, coffee, soft drinks, punch, water and lollies for those with a sweet tooth.
Many thanks to the people and organisations that happily gave their time to come help with the table and hall decorations, and the preparation and serving of the meal Christmas Eve and Christmas Day. Taking the time out of your day to help at this community event is much appreciated and the effort volunteers put in was certainly shown through the attendance and spirit of the day.
A special 'Thank You' is extended to the Canowindra Bowling Club for donating the use of the Function Centre and Kitchen, Canowindra @ Home for the dessert preparations, St.Vincent de Paul, The Canowindra Food Basket, Canowindra Health Centre and Belubula Butchery for providing the venue for information and Bookings Forms, also The Canowindra Phoenix and The Canowindra News for continually support- ing The Canowindra Christmas Day Lunch through their publications.
"Congratulations to everyone because it is only through each of your efforts that such a successful and needed event can occur. Canowindra truly has the heart and spirit of community and lives out the meaning of Christmas," said Deb Rutter on behalf of the Canowindra Christmas Day Committee.
For many Christmas can be a lonely time of the year but thanks to the Canowindra Christmas Day Committee and volunteers, members of the community were able to feel the true spirit and joy of Christmas over a delightful meal with friends.
"Thank you to the guests who shared their Christmas with us and we look forward to Christmas 2017 when we once again come together to celebrate Christmas and community," Deb Rutter.