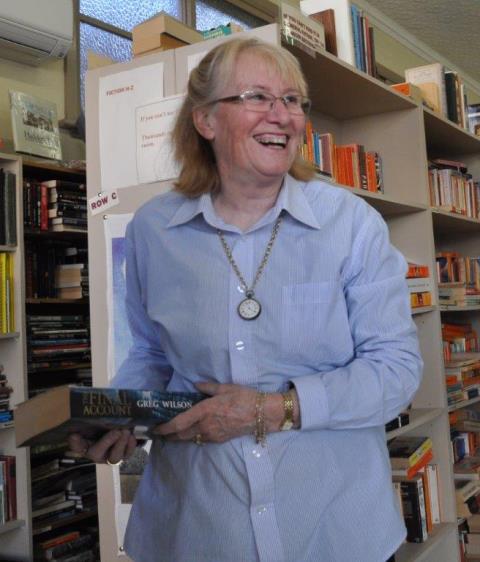 Virginia Anne Oliver began her life in Sydney, moving to Canowindra after marrying her husband David Cullane and was a lady perhaps best known for her volunteer work. She had a keen interest in children's education and was the Presiding Officer for the HSC at Canowindra High School for a time.
As a child Virginia would read labels on jam jars and sneak books to bed to read under the covers. This bookish rebellion led to a lifelong passion for reading and her love of the written word is still reflected at the bookshop on Gaskill Street.
Virginia became a member of the Canowindra Branch of the CWA in 1980. Her roles included Treasurer, Group Conference Delegate, Group Councillor, Vice President, President, International Officer, Handicraft Officer, Hall Booking Officer, Life Member & Branch Patron. More importantly than any of the positions held by her within the CWA, Virginia enjoyed the companionship offered by belonging to the Association. Virginia freely passed on her wealth of knowledge and experience to new members and ensured that all members were made to feel welcome and special.
Virginia was awarded the National Medal for services to the Rivers bush fire brigade in 2002. In her 'spare time,' Virginia was also a Justice of the Peace. She was diagnosed with breast cancer in 1997 and following sixteen years in remission, it sadly returned in 2013. Typical of her selfless nature, Virginia spoke to her oncologist Dr Peter Fox, expressing her desire to raise money for a research project, specifically one which would benefit her local area. She decided to run a book sale over Easter, with the proceeds going towards establishing the Central West Clinical Trials for Breast & Prostate Cancer. The sale was a huge success and to date, Virginia's initiative has raised over $15,000 to assist future cancer sufferers in the region.
Virginia was unable to win her battle against cancer but she did retain her humour, dignity and stoicism throughout her fight. She was accepting of her situation without complaint and right to the end her biggest concern was for others instead of herself.
Virginia loved her family wholeheartedly, and the community was lucky enough to be enveloped in this compassion. She was truly a unique and special lady who will be very much missed by all who knew her here. Canowindra is a little less bright, but her name above the bookshop window is a lasting reminder of her beautiful spirit.
PHOTO caption: Virginia in her book shop