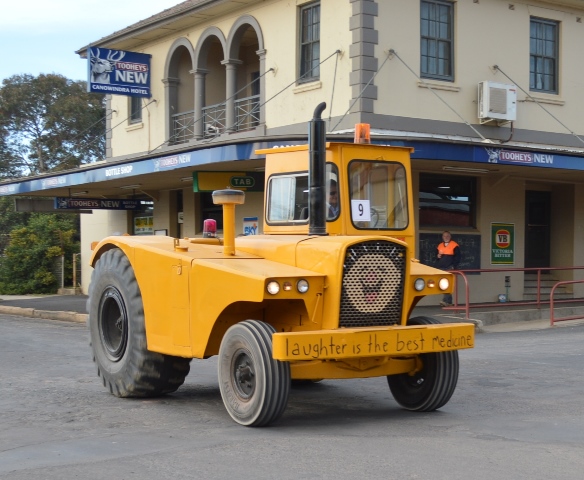 The sound of horns blasting and engines chugging reverberated through Canowindra on Friday as the annual Camp Quality Tractor Trek swept through our town, leaving behind glowing praise for the community and the local Lions Club.
According to trek director Graeme Eggleston the visit, featuring a gala auction evening at the Canowindra Services Club, will have raised a whopping $8,000 or more locally in funds for Camp Quality kids when the final tally for the entire trek is completed in November.
"The response from Canowindra was one of the big highlights of the trek. I have to say that the Lions Club did an excellent job, and are to be congratulated and commended, in organising the auction evening. The event raised $5,900 in a raffle, and the Lions themselves donated another $500" Graeme stated.
The number of tractor owners taking part was slightly down on last year – 28 vehicles roaring, hooting and whistling through 13 regional towns and hamlets.
"There were a couple of illnesses this year," says Graeme, "but 28 trekkers have said they'll be back on the road next year."
Unlike the previous two annual treks, this one didn't travel to big centres like Orange, Dubbo and Oberon, yet the response compares more than favourably in money raised.
And Graeme Eggleston singled out tiny Gooloogong as an example of the support by the region's small communities. "The schoolkids in Gooloogong have raised $400 by themselves over the past eight months. "They reflect the way the smaller towns in particular get right behind the Tractor Trek. They treat it as a community effort, and they give us the best results by far."
Camp Quality provides leisure relief and support for some 42 families of children with cancer throughout the region.
On behalf of Camp Quality, Roy White would like to thank all the businesses, organisation and individuals for all their help in raising money. So far in excess of $230,000 has been raised on the three day Central West tour, smashing the original target of $170,000. Roy, who rumbled through Canowindra in his bright yellow Chamberlain tractor, will be selling the fantastically colourful Camp Quality Tractor Trek hats on Saturday at the Canowindra Show, just keep an eye out for the big tractor to buy one for yourself!
By Derek Maitland
IMAGE: Graeme Eggleston and "Giggles" (Cara Woods), the Camp Kids mascot, celebrate the trek's arrival at Canowindra Showground on Friday.