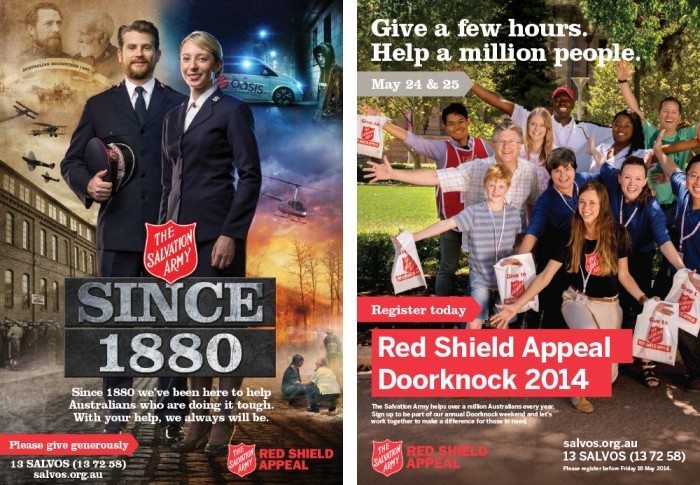 The Red Shield Appeal is The Salvation Army's primary annual fundraising drive. The Red Shield Appeal Doorknock takes place on the weekend of 24-25 May 2014, and it offers Australians from all walks of life a chance to not only get behind the Salvos but to be part of transforming the lives of people right around the country.
The national goal for the Red Shield Appeal Doorknock this year is $10 million, which forms part of The Salvation Army's Red Shield Appeal which aims to raise $80 million across Australia.
"Without the generous support of Australians in every suburb and town across the country, The Salvation Army could not reach this goal… the funds of which go directly to support Salvation Army programs and social services."
With Australia going through a major economic transition and many individuals and families facing an uncertain future, The Salvation Army expects many more people will be in need of basic assistance with issues such as food stress.
"Many people who have been well off in the past are now genuinely worried about their future," Major Harmer said.
"The Salvation Army is in a unique position to assist individuals and families who fall on hard times, whether it be with their immediate needs such as food assistance through to working with people over the longer term with financial counselling; drug, alcohol and gambling rehabilitation services; as well as skills development and job placement just to name a few."
To volunteer simply call 13 SALVOS (13 72 58) or register online at salvos.org.au.
To donate to the Red Shield Appeal please call 13 SALVOS (13 72 58), visit salvos.org.au, or in person at any Westpac Bank branch or by posting your cheque to PO Box 9888 in your capital city.