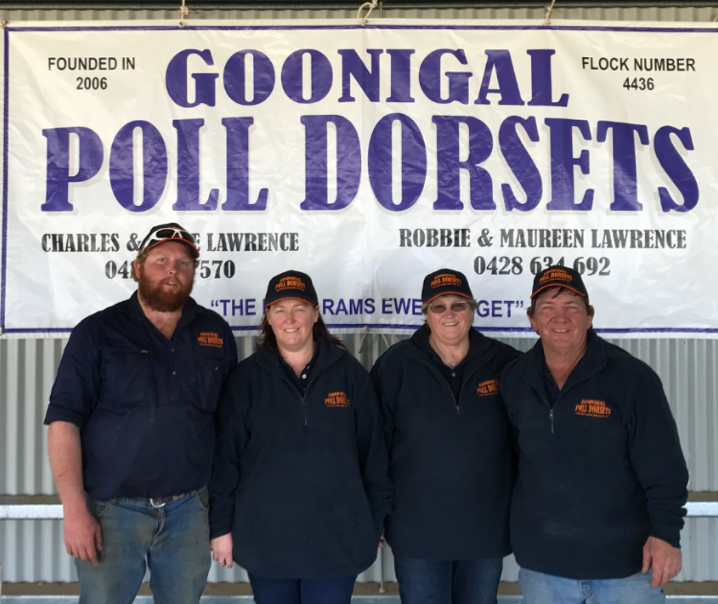 Robbie and Maureen Lawrence and Charles and Kylie Lawrence from Goonigal Poll Dorsets held their 2nd Annual Ram Sale on Tuesday at the Canowindra Showground. Bill Brien from Allan Gray and Co ran the auction with strong bidder registrations and more than 50 people in attendance on a lovely near-spring day.
Bill Brien commented that "It was great to see some new faces in the crowd and welcomed back the regular buyers." There were over 90 lots penned and ready for viewing by 10am at the Showground. The bidding started off strong wit Lot 14 topping the sale at $1,900. The sale averaged about $1,200 with 100% clearance which is a significant increase on last year's sale. Blood lines for the sale rams included Hillden, Springwaters, Abelene Park & Armdale Park.
All rams up for auction were Brucellosis accredited free and vaccinated for OJD and footrot free. So far Client feedback has been excellent for Goonigal Poll Dorsets with early maturing weight for age, carcase shape and yield in their progeny.
At the conclusion of the sale Robbie Lawrence said "Thank you to everyone for coming today, we are very pleased with the results and we hope that you have success with the ram's purchased here today." He also went onto thank Bill Brien and his team from Allan Gray & Co.
Remember Goonigal Poll Dorsets are "The best rams ewe can get" so look out for
next year's sale!