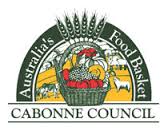 Cabonne organisations are being urged to apply for a share of $200 million in State Government funding for projects to make their areas more attractive places to live and work. New infrastructure, such as parks, playgrounds and cycle tracks, are being earmarked
along with refurbishments to existing facilities including community centres, libraries and kitchen and toilet blocks in local parks.
Cabonne organisations are advised to review the guidelines on the website www.industry.nsw.gov.au/invest-in-nsw/regional-opportunities/stronger-country-communities- fund and liaise with the Council.
Applications for projects open on 20 September 2017 and must be submitted to the Government by 18 October 2017.