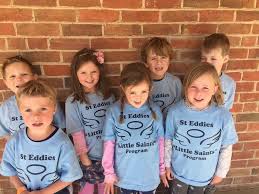 St Edward's Primary School in Canowindra are excited to invite those starting Kindergarten in 2020 to the "Little Saints" Kinder Orientation Program which will commence soon. The first session is on Monday 9th September from 9am – 11am and includes a meeting for parents while the children attend class. There will be another 4 sessions after this on Monday 16th and 23rd September, Monday 21st and 28th October. St Edward's in Canowindra has a lot to offer for a small school including…
• More one-on-one time: This type of educating is critical, both for development of skills and for inspiring students.
• Students can't hide: In a large class, it becomes much easier for the quiet kids, or the unmotivated kids, to hide in a clique of friends or at the back of the class. With fewer students, the teacher is more capable of ensuring everyone participates and engages the material.
• More cohesive class culture: A smaller class will ultimately make a more cohesive unit than a larger one. In a smaller classroom setting, students will have the opportunity to interact with and form relationships with all of their classmates, ensuring that the class is more supportive of each other.
• Teachers can form better relationships: Related to the increased amount of individual time spent is the quality of relationships teachers are able to build with each student. In smaller classes, teachers better know the strengths, weaknesses, and needs of each pupil
• Students are more engaged: When students have a strong relationship with their teacher and know they are responsible for their work and level of participation, they are bound to be more engaged with the curriculum.
For more information please contact Principal Ken McNamara on 6344 1170 or drop in and visit the school in Tilga Street!