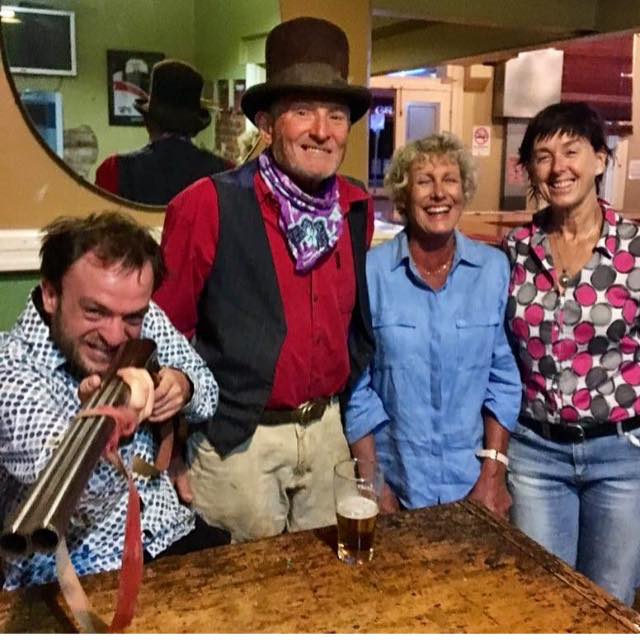 ABC Backroads Featuring Canowindra: The ABC Backroads program on Canowindra will be aired on Monday January 8th
2018 at 8pm on the ABC.
Cabonne Community Transport Volunteers: Spent 4,400 hours behind the wheel, driving 116,000 kilometres to help frail aged and transport disadvantaged clients in the Shire during 2016-17. To put that into perspective, they made the equivalent of 32 trips from Cabonne to Perth. The volunteer drivers made more than 8,800 trips during the year. These volunteers are the backbone of the Cabonne communities and community transport receives amazing support from its volunteer drivers. In addition to these trips, Cabonne Community Transport coordinated bus services from Manildra, Cudal, Yeoval and Cumnock to Orange each fortnight and buses from Eugowra, Canowindra and Cargo every month. The service also provided taxi vouchers for clients in Canowindra and
organised a number of social trips for senior residents.
The Big Peg – Canowindra: On the Cargo Road has now been included in the List of Australia's Big Things on Wikipedia check it out https://en.wikipedia.org/wiki/Australia%27s_big_things#New_South_Wales
Congratulations: To Catherine O'Brien who won the Canowindra Creative Centre raffle on Friday 15th December 2017. 1st prize was a $50 open order for anywhere in Canowindra.
Christmas Day Punch: Combine 500ml (2 cups) PIMM'S, 750ml (3 cups) chilled dry ginger ale, 750ml (3 cups) chilled lemonade, 8 cups ice cubes, 1 punnet strawberries thinly sliced and 1 bunch fresh mint into a 3 Litre capacity Jug or Punch Bowl and stir. Garnish with fresh strawberries and mint and enjoy!
Fundraiser Day at Golf Club: The Canowindra Golf Club had a great day on Saturday and raised $5,710 for the Club. Thanks go to everyone who came and supported the day!
How many calories will I consume on Christmas Day: You can expect to consume around 7,000 calories this Christmas Day. The recommended daily calorie intake is 2,000 for women and 2,500 for men.
A Big Thank You: To Rob and Marg Morris and Mandy Townsend for organising the Junior and Senior Pythons and Pythonettie Christmas Party on Saturday. Thanks to everyone who brought a plate along to share too. The kids had a huge water pistol fight to keep cool!
Well Done: To Canowindra Public School Captain Leah Troy on being awarded Dux of the School at the Presentation Day last week.