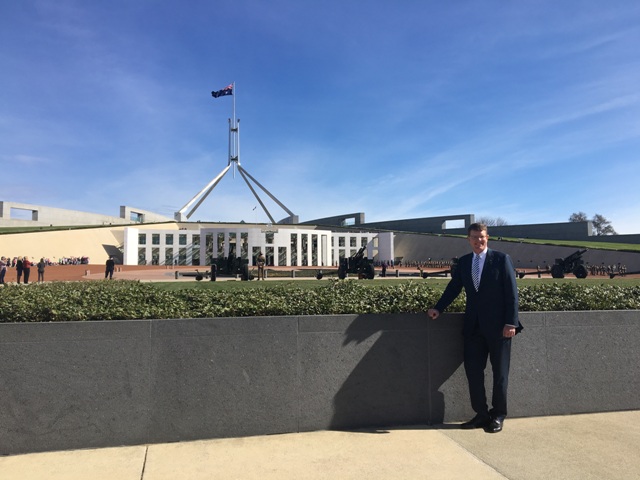 Gee sworn into Federal Parliament: Federal Member for Calare Andrew Gee has been officially sworn in to the 45th Parliament of the Commonwealth of Australia for his first term during a ceremony at Parliament House in Canberra last Wednesday. Mr Gee said he had a long list of priorities including the Murray Darling Medical School, funding for roads including progressing the crossing at Dixon's Long Point, access to overseas markets for our local orchardists, more aged care beds for Lithgow, and a host of local infrastructure projects.
Cabonne Council to hold mayoral ballot this month: Although no Local Government elections will be held in Cabonne this month, Cabonne Council will still conduct a ballot for Mayor and Deputy Mayor at its next meeting. Because Cabonne is part of a merger proposal with Orange City Council and Blayney Shire Council, an election for the proposed new entity has been postponed by the NSW Government until September 2017. However, with the merger being delayed by legal action undertaken by Cabonne, it is currently business as usual for Cabonne Council, and it will hold its annual Mayoral and Deputy Mayoral ballots at its next meeting on September 27.
Sylvia Thurtell wins Moorbel Hall raffle: Congratulations to Sylvia Thurtell, the winner of the Moorbel Hall Father's Day Raffle. Happy eating at the Club.
Grenfell 2016 Junior Farmer Rural Youth Reunion: Grenfell is celebrating its 150th birthday in October, and the Junior Farmer Rural Youth Reunion will be held as part of these celebrations. It will be held at the Grenfell Showground on Saturday October 8. Morning tea will be served from 10.30am, and lunch will be served from 12.30pm. Graham Blight will be the guest speaker at the event. Please RSVP to Jim Griffiths at bonusdowns@gmail.com.
'R U OK?' Day this Thursday: This R U OK? Day, R U OK? is calling on all Australians to reconnect with someone they've lost touch with, as new research from the suicide prevention charity reveals one third of us have unintentionally lost contact with four or more family members or friends. This Thursday, September 8, will be the eighth national R U OK? Day. R U OK? is a not-for-profit organisation that aims to inspire and empower everyone to meaningfully connect with people around them and support anyone struggling with life. R U OK? Day is a national day of action, held on the second Thursday of September each year. But every day is the day to start a conversation. Conversation tips and crisis numbers can be found at ruok.org.au.