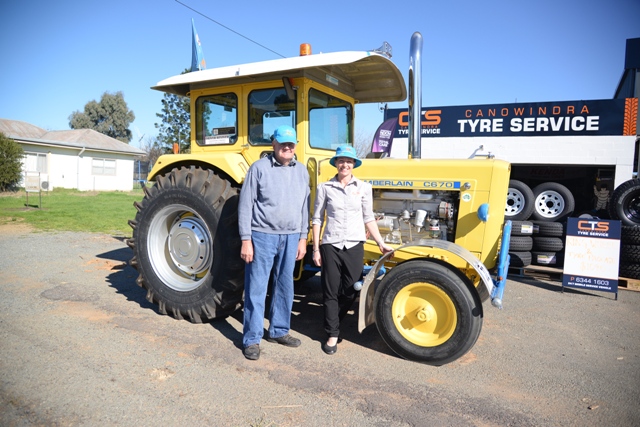 Canowindra Tyre Service barbeque breakfast: A special barbeque breakfast will be held on Saturday morning at Canowindra Tyre Service from 8am to raise funds for this year's Tractor Trek. The Tractor Trek is an annual gathering of people and their tractors, who spend a weekend travelling across parts of the Central West in their tractors. Both vintage and modern tractors are expected to participate this year, and all funds raised from the event will go to the Camp Quality charity, which looks after children with cancer. The Tractor Trek starts September 23.
Belubula water security investigations: WaterNSW is calling tenders for a strategic partner to assist with the Lachlan Valley Priority Catchment Water Security Investigations, which includes the Belubula River. Phase one investigations identified the lack of water security in the Lachlan Valley was limiting economic growth and there was a potential for storage to improve water security in the region. Phase two investigations will involve feasibility studies. WaterNSW will indicate likely timeframes and potential opportunities for stakeholder involvement once the strategic partner is confirmed. Phase two investigations are expected to take two years to complete.
Mobile Blood Bank coming to Canowindra: The Australian Red Cross Mobile Blood Bank will be in Canowindra on Monday, September 5, at Morris Park on Rodd Street. It will be open from 9.10am until 3.30pm. The Australian Red Cross is encouraging as much of the town as possible to roll their sleeves up and donate blood. Those doing so should have a good sized breakfast that morning, drink three to four glasses of water or juice beforehand, and must have photo ID with them. The Australian Red Cross Blood Service needs to collect over 25,000 blood donations every week to help Australians in need.
Moorbel Markets on Saturday: The Moorbel Markets will be held on Saturday the 3rd of September 2016 from 8.00am until 12pm at the Moorbel Hall. A great range of stalls are available, which include garden art, gift items, collectable items, a wide variety of plants, vegetables, free range eggs, Doug's gourmet potatoes, goat's milk soap, medical socks, beautiful items with that personal touch, jewellery, handmade cards, jams, bric-a-brac and of course, lovely homemade cooking. The Moorbel Ladies will be at the Moorbel table so call in and say 'hello'. A barbeque offering sausage or rissole sandwiches and a cuppa with scones are also available to purchase at a minimal price.