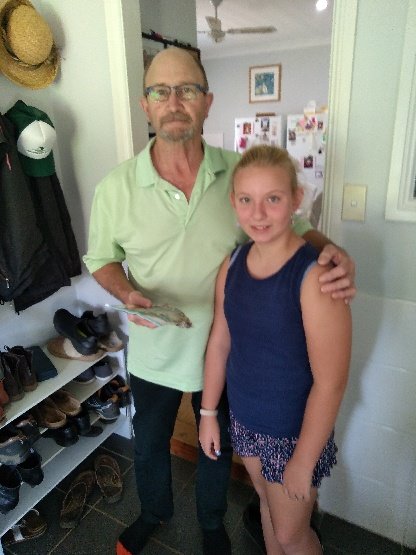 Well Done to Holly Pull: Who during the summer holidays raised $350 for Ellie Wild by holding a tattoo stall and selling earrings made by her Aunty Mausie to go to Ellie to help her with her treatment to beat leukaemia. Holly is pictured here with Barry Traves (Ellie's grandfather).
Derek Maitland Art Space: The Official Opening of the Canowindra Arts Derek Maitland Art Space will take place on Friday 25th January at 5.30pm. Everyone is welcome to celebrate the great new facility in Gaskill St and recognise Derek's Life and Work.
Canowindra Business and Progress Association: A reminder that the Canowindra Business and Progress Association AGM will be held on Wednesday 30th January 2019 at the Canowindra Services Club at 5.30pm.
Giving Blood Feels Good: The Mobile Blood Service will be visiting Canowindra on Monday 25th February from 9.15am to 3.30pm at Morris Park in Rodd Street. Did you know that every donation can save three lives? Have a good sized breakfast or lunch before attending and make sure you drink 3 or 4 glasses of water in the hours before you donate. To make an appointment call 13 14 95 or visit www.donateblood.com.au
Congratulations: To the following students who received awards at the final Presentation Day of 2018 at Canowindra Public School. CWA Music Scholarship Award – Hayley Stephens, P&C President Encouragement Award – Samuel Bullock, Phil Donato School Citizen of the Year Award – Lachie Read, Cabonne Council Award for Citizenship – Bella Gordon and Dux of the School – Amelie Kerr.
School Returns: Don't forget that school resumes on Wednesday 30th January 2019, please be mindful of the 50km/h school zones on Rodd and Tilga Sts around Canowindra.
Catch of the Week: Have you been fishing these summer holidays? Simply email your photo and details of the breed and location on where it was caught and you could win a $30 Fishing Factory Orange voucher.
Faster Payment Terms Policy: The NSW Government is committed to enabling better access to cash flow and capital for small businesses and has released a Faster Payment Terms Policy as part of this commitment. From 1 December 2018, eligible and registered small businesses that invoice up to $1 million will be paid within 20 calendar days and within 5 business days from December 2019. Payments under $10,000 can be paid by credit card, reducing the time even more. Visit www.smallbusiness.nsw.gov.au/rego and complete the quick and simple online registration form. This will register your
small business for faster payment terms across all applicable NSW Government agencies.
Canowindra Show Committee: Will hold its first meeting for 2019 on Tuesday 12th February 2019 at 7.30pm at the Canowindra Bowling Club. Everyone welcome.