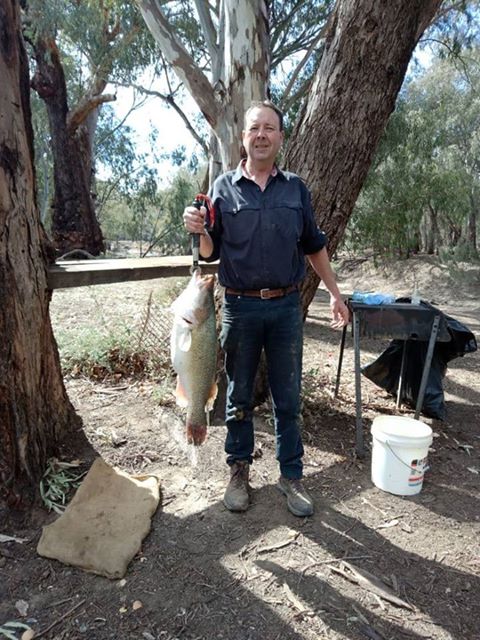 Catch of the Week: Steve Thompson caught this 73cm Cod in the Lachlan River at Euabalong. If you have been fishing lately send your fish pics to editor@canowindraphoenix.com.au
New Swimming Pool Manager: Cabonne Council has accepted the tender from local resident Margaret Duguid for management and operation of the Canowindra Swimming Pool from 1 October 2018 to 31 March 2019.
School Reunion: An invitation is extended to all school mates for the 50 Year reunion of the Canowindra Public School Class of 1968. A dinner will be held at the Canowindra Services and Citizens Club on Saturday 8th September 2018. There will also be a breakfast at the School on the hill on Sunday morning, 9th September 2018. It is understood that classmates are coming from all over Australia. For further information please contact Fred Maskill on 0400 962 220 or Warwick Bowd on 6344 2025.
Goonigal Poll Dorsets: Held a successful sale last Tuesday in Canowindra despite the tough drought conditions felt around the area. The Top Price Ram went for $1,750 to Matt Parker of Eugowra.
Dress Like a Farmer Day: During the Cabonne/Blayney Family Day Care Dress Like a Farmer Day earlier this month, the Service raised a massive $300 for chosen charity, Buy a Bale. The Service was able to donate 15 hay bales with this money. If you wish to donate head to www.buyabale.com.au/donate/
New "Slow Down" Road Rule Now in Place: Drivers in NSW will now have to slow down to 40 km/h when passing stationary emergency vehicles with their red or blue lights flashing. The rule applies to vehicles travelling in both directions, unless the road is divided by a median strip. Motorists who ignore the speed limit will face penalties including a $448 fine and the loss of three demerit points.
Spring Photo Competition: Spring has finally sprung so that means it is time to get your cameras out! The Phoenix will once again hold a Spring Photo Competition in 2018 for all of the community to enter. Get creative and simply snap away then send your photo to editor@canowindraphoenix.com.au or via our Facebook page for your chance to WIN a FREE Family Photography session (worth $150) with talented local photographer Jess Grant from Jessica
Elizabeth Photography.