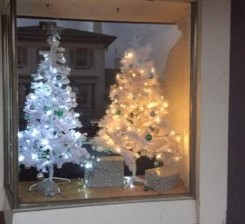 Christmas in July: Take a stroll down Gaskill St during the month of July in Canowindra and check out all the businesses who have decorated their shop
windows for the annual Christmas in July Window Display Competition – well done they look great!
School Holidays: The last day of school for Term 2 is tomorrow Friday 6th July. We wish all families a safe and happy holiday break. School resumes on Tuesday 24th July.
Canowindra SES Unit: Have you ever wanted to join the NSW SES but don't have much free time, or feel you don't have any value to add? Are you an accountant or do you have financial skills but can only spare an hour per month, but still want to help out? Are you a forestry worker, or any type
of worker for that matter, with a chainsaw licence and want to help out the community? Can you drive a vehicle or a boat? Then the SES want you! There will be some initial training that you need to complete, but once that's done and dusted the SES only need you to show up to training and call outs as often as you are available and willing to help out in whichever way you can! Call in and see the local Canowindra branch on Tuesday evenings from 7pm at the unit on the corner of Armstrong St and Canowindra Rd or visit www.ses.nsw.gov. au to fill out an application form.
Thanks Percy: A huge thank you to the  Boorowa Country Education Fund and to the team who Pushed Percy the Pig from Orange to Boorowa. They have made a generous donation of $3,090 to help kick start the Canowindra Country Education Foundation.
Children's Colouring In Competition: Head to Page 7 of today's Phoenix and start colouring kids, then drop off your finished artwork to the Phoenix Office at 84 Gaskill St. There will be a prize for the best artwork under 5 years old and a winner for the best artwork over 5 years old!
Catch of the Week: Sue Dawson with another great catch of the week from Port Douglas in sunny QLD. If you have been fishing lately we would love to see your photos, just send them to editor@canowindraphoenix.com.au