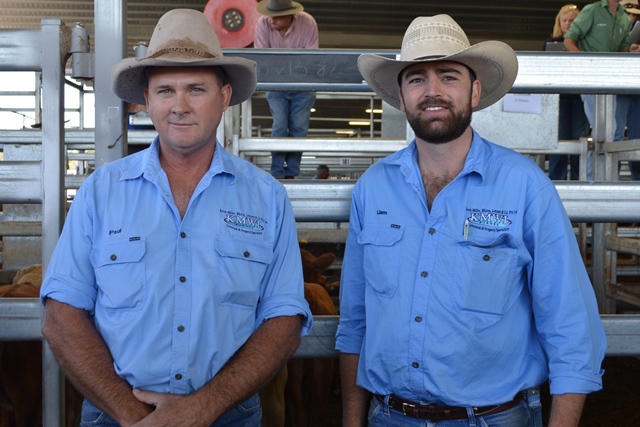 Good local rainfall in and around Canowindra during the first two weeks of January has given farmers a reason to smile. With only a yarding of 2920 head of cattle at Carcoar Livestock Exchange on Tuesday 13th, quality was excellent, with the bulk of the cattle showing good degrees of finish.
Vealers were limited in supply, with yearlings well supplied and good runs of heavy weight prime conditioned steers also penned. Cows were well represented with the majority high yielding and suitable for the meat processors. The usual orders competed, with prices through the categories reaching CTLX record levels. The yearling steers mainly went to lot feeder orders.
On Friday 16th at the restocked sale there was a much reduced yarding of only 800. James Carr from Funny Hill, Binda was pleased with a line of 28 steers coming in at around 350 kg and fetching $890. These were bought by Ashley Clark, an independent buyer from Lyndhurst. "They are going to be sent to south east Queensland to a feed lot before being killed at Casino and then exported to China" he said.
At the moment, anybody looking to restock is paying a premium for stock. Whereas this time last year a 250kg beast was worth around $500-$520, now they are selling for $680-$700 each. Paul Breen from KMWL, Forbes said, "cows and calves at foot have gone up dramatically from last year with prices around the $650-800 mark and this year the same cows and calves are on the market and bringing between $1500-$1740."  Ben Emms, from Ray White Emms Mooney said that it was a red hot market on Friday 13th. "I'm pleased to say that this doesn't look like a flash in the pan" Ben said. When contacted about their prices on Friday many sellers were asking if this would last. Ben feels it will, " when you look at the market forces in play it's easy to mount a strong argument as to why this may well be around for a while!"
Tuesday's cattle sale on 20th January, at Carcoar, saw a yarding of 4600 cattle, substantially up on the previous week. The market was firm apart from cows, which were slightly easier. Steers were the winner with one line at 518 kg steers averaging $1222. Paul Breen went onto say that the lamb market on Tuesday 20th in Forbes was steady from last week, with some new season heavy lambs, weighing approximately 135 kgs making $198.00 each. Let's hope this lucky streak continues for our local farmers.
By Cheryl Newsom