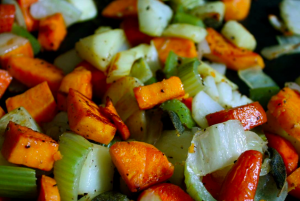 Winter Vegetables
Winter has certainly arrived here this week and I heartily confess to being one of the annoying people who actually like it.  How wonderful that the seasons dictate not only how we dress and the activities we pursue, but also how we cook.
Winter is the time for root vegetables: carrots, parsnips, radishes, turnips and swedes. What all these plants have in common is that they reach maturity in winter so that's when the natural sugars are at their highest, resulting in a wonderful sweetness once roasted.
The exception to this are radishes which need to be eaten fresh out the ground with a sprinkling of salt, butter and good bread.
Incidentally I'm often asked the difference between a turnip and a swede; they look very similar to each other but the turnip has white skin and flesh with a purple blush around the top, while the swede is a pale yellow-ish colour.  Swedes tend to be grainier than turnips but both are delicious peeled (peel them thickly) and cut into chunks, boiled in lightly salted water then drained and mashed with plenty of butter.
Root vegetables pair beautifully with their starchy counterparts potatoes, pumpkin and sweet potato.
A dish of roast winter vegetables is one of winter's highlights and a perfect accompaniment to roast meats or poultry.
This is how I do mine.
Choose a selection of vegetables and peel them as required – perhaps not beetroot as the colour leaches into everything else, I usually do those on their own and add them later.
Cut the vegetables into serving size pieces, place into a shallow roasting dish and toss them together. Season them with salt then drizzle with extra virgin olive oil.
Roast in the centre of the oven @ 180C until softened and well cooked. How long this will take depends on how big your pieces are and whether or not there is anything else in the oven. Toss them from time to time during cooking and don't be afraid to cook them until they are quite brown around the edges, it makes them taste so much better.
Tonight's dinner is roast pumpkin, sweet potato, parsnip, carrot and turnip all mixed up together. While they are still hot I'm going to pile them into a favourite serving dish and spoon goat's cheese here and there over the top, then a grind of black pepper and a scatter of parsley.
Here's to winter.  Happy cooking!
By Lesley Russell
Putting Mobile On The Menu
Australian food retailers risk losing valuable customers and being outsmarted by competition unless they embrace new mobile sales technology, according to franchise point of sale specialist Shift8. Shift8 is a leader in cutting edge point of sale and business management systems designed for franchisors and corporate retail chains. Shift8 provides complete software systems which encompass sales and analytics, and the collection, storage and maintenance of data.
With more than a third (35 per cent) of customers indicating that they bought food while on-the-go and one in 10 preferring to use an app to pre-order, there is a clear need for Quick Service Restaurants (QSR) outlets to adopt mobile sales systems. When asked about the benefits of in-store mobile point-of-sale, the majority (62 per cent) of QSR operators said less customer queuing would be a key driver for adopting the technology. Consumers echoed this sentiment with almost a third (32 per cent) saying that queuing to order food was the biggest waste of time when eating out. With the advent of the 'time poor' upon us, convenience and good quality food is sought by consumers during lunchbreaks every day.