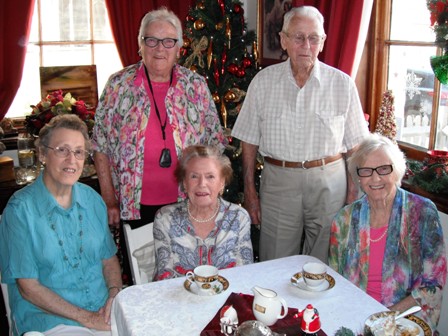 Over 40 members of the Canowindra Historical Society, from as far afield as Orange and Cowra, gathered on Sunday for High Tea at "Montrose House", to celebrate the end of another successful year for the Historical Society, and to give special recognition to the Society's Patrons : Berna Wright, Gwen Wythes, Dorothy Balcomb, and John Farley. In anticipation of the AGM in early 2016, Audrey Farley was also announced as a Patron, and honoured on the day.
Tommy Jeffs prepared a magnificent "High Tea" and also spoke of the family
significance in the name "Montrose House" he has given the former bank building.
This year is the 100th anniversary of the building and opening of this former Bank of NSW (and later Westpac) that stands so grandly in Gaskill St, and Jan Harrison provided an informative and interesting talk on this history.
In moving a vote of thanks to the Patrons, President Ross Cleary mentioned their significant contributions to the published histories of many aspects of this town and district, and to the strength of the collections in the Museum, and the care of this valuable collection. Their work has set a standard that the Historical Society strives to maintain and enhance into the future.