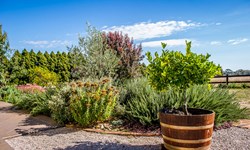 Late winter is the perfect time to prepare the garden for the months ahead. With cool temperatures and plenty of rain having been received across Canowindra, there is absolutely no better time to dig in and get the jobs done.
Soil Preparation
Ask any garden lover about what the most important part of gardening is and they will all say preparation of your soil comes first and foremost.
The addition of organic matter in to the soil provides nutrients and habitat to organisms and one very important fact to note – improves water holding capacity. Time to get the digging fork out!
Plant Selection
Have you ever wanted a particular plant in your garden but have never known how to get started or if it will grow in the area that you live? The best place to start is at your local nursery.
Landscaping
While the weather is now starting to finally warm up, any time during winter or early spring is recommended for completing any landscaping at your place. This is because the weather is still cool, and therefore easier to complete the work. Sally Bourne Landscapes, based in nearby Gooloogong, is your local expert on landscaping. Sally Bourne specialises in bringing that vision to fruition. Sally believes the ability to listen closely and interpret the key aspects of style and purpose as defined by the client are integral elements in the design process. Inspiration and intuition are also key components in her design. She brings a love of design and a passion for the natural world to her projects.
Sustainable, rustic, earthy, achievable and family friendly gardens are Sally Bourne Landscapes' trademark. Sally's mission is to design beautiful gardens that she can be proud of in years to come. She aims for landscapes that meet the needs of the client, complement the Architecture of the built form, suit the climate and have a respectful link with the site and surrounding landscape.