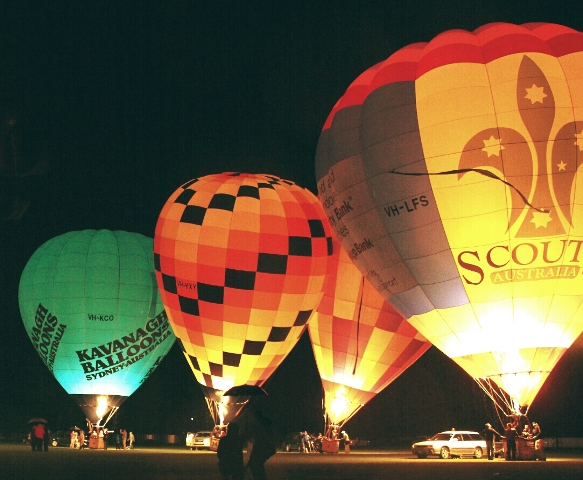 Balloonists battled against howling winds and downpours of rain, on Saturday evening at the Balloon Glow Spectacular, trying their hardest to give the soggy crowd what they came for. Crews were fighting the elements to keep the balloons under control.
A short intermission in the weather, where the wind disappeared and the rain briefly subsided, gave balloon crews the opportunity they needed to set up in fair conditions, but as the balloons began to inflate, the gathering storm clouds gave out. Buckets of rain showered down, drenching spectators, the balloons and their respective crews.
A big gust of wind he first balloon came down, and within minutes all ten were deflating, as much for the safety of the balloons, as for the crew members and spectators in attendance.
"Those pilots should get medals," said event organiser and local hot air ballooning enthusiast Jan Kerr. "The weather was absolutely horrible, and what they did was fantastic. I can't praise them enough for doing their best to get the balloons up."
While the glow itself was short lived, the sheer determination of the balloon crews to take on the weather and light the balloons up for the crowd shows how much the town of Canowindra means to them. "I have so much praise for the pilots. They gave something really special to the public," said Jan Kerr.
Scheduled entertainment was cancelled, including the much anticipated fire dancing act, as the stage was too wet and slippery for the dancers, which was disappointing for both spectators and the organisers of the event.
Locals and visitors to the town had been looking forward to the popular, annual family event, and thousands of people still came through the gates despite the unfavourable weather.