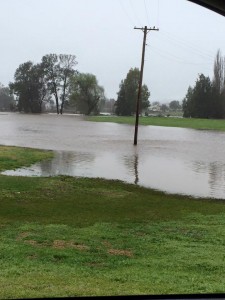 The NSW government has decided to move ahead in the next stage of investigations for the Cranky Rock Dam, a promising prospect for landholders along the Belubula River still dealing with the aftermath of recent floods around Canowindra.
With $2 million allocated by the NSW Government for the project, a local dam to manage floods is a move that Belubula Landholders Association says cannot come soon enough. Chairman of the Belubula Landholders Association
Michael Payten said the Minister's Office has given the go-ahead for Water NSW to start Phase 2 of the Cranky Rock Dam Investigation.
"The Minister for Land and Water, Niall Blair has indicated that phase two includes a cost benefit analysis assessment, including consideration of the ongoing operational costs of the proposed dam," Mr Payten said. "The recent flooding has shown just one of the benefits of having a dam upstream of
Canowindra to mitigate any damage to farmland and local residences by floods, which occur frequently on our river."
"Around 30,000 megalitres of water flowed past the gauge at Canowindra during the recent flooding which could have been stored for the benefit of the community and the environment if we had a dam lower in the Belubula
catchment." "While we've seen the capacity of Carcoar Dam flow past our community in the past week, Carcoar dam itself sits at only 17 per cent of capacity, with next to no water available for irrigation this coming season."
"A dam at Cranky Rock would provide a massive economic benefit to the local farming community and for landholders along the Lachlan River. It would also reduce the flood levels in communities such as Canowindra and Forbes."
Have you got an opinion on the Cranky Rock Dam Proposal you'd like to share? Email us at editor@canowindraphoenix.com.au