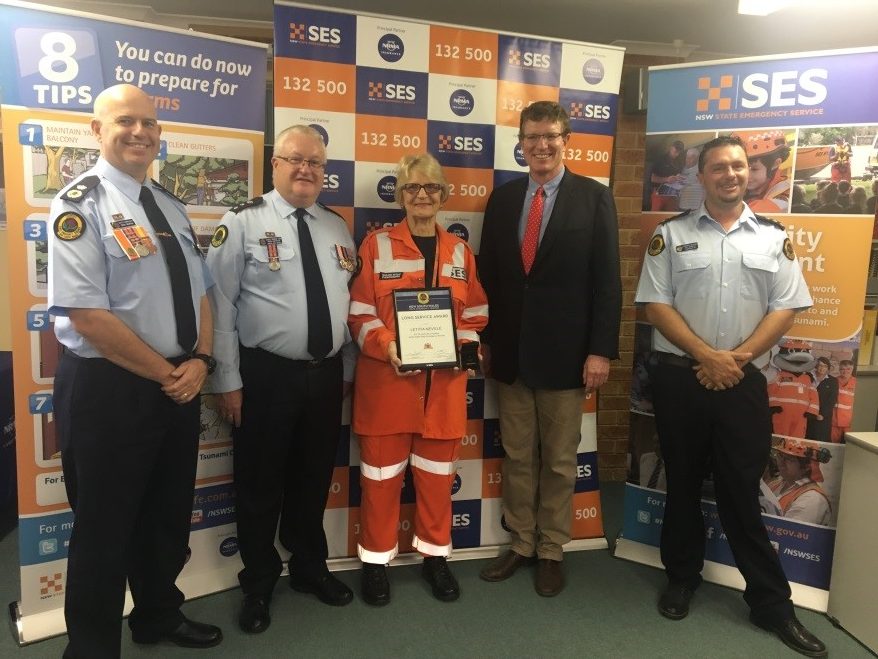 Volunteers from the NSW SES Central West Region were recognised for their outstanding service last Saturday at a special Awards Presentation held in Bathurst. Volunteers from the Bathurst, Blayney, Canowindra, Oberon, Orange and Portland Units were presented with NSW SES Long Service Awards. A total of 480 years of service to the community is being recognised.
Canowindra's Marlene Neville received the First Clasp to the National Medal for an incredible 25 years' service as an SES volunteer. Canowindra's SES Controller, Cameron McKenzie was also present to honour Marlene's selfless contribution to the local area.
Andre Gee MP was at the awards presentation and said "On behalf of a grateful community, I would like to congratulate Marlene and thank the hardworking men and women of the SES who are always there when we need them."
The NSW SES Central West Region comprises of 12 Units that respond 24/7 to storm and flood events, plus regularly provide support to other emergency services such as the NSW Police by carrying out rescue and assisting in land and water searches operations for missing people.
Volunteers have also frequently travelled outside their area to assist other NSW SES Units in major flood and storm events. "Our volunteers respond rapidly to natural disasters and emergencies, saving lives and protecting our communities. I thank these people for their incredible community spirit and their ongoing contribution to our Service," said Mr Newton.