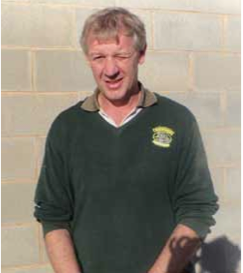 Mark Brown, or 'Browny' as he is affectionately known by his mates, has lived in Canowindra his whole life and is married to Bec with three children. He spends his weekends with his family, at the Pony Club or "watching my mate Toddy Wyburn play rugby!". During the week, you'll see Browny working at Canowindra Produce which is owned by his family.
His favourites: His favourite place in the world to visit is Gourt, Ireland where he played rugby for two years. When asked how he likes his coffee he replied, "nothing fancy, white with two sugars."
His worst habit is talking too much "especially when I'm drunk!". Nonetheless, Browny is a man who seems at peace and content with life, "I don't want to own the world, I just want to be happy." Wise words Mr Brown.