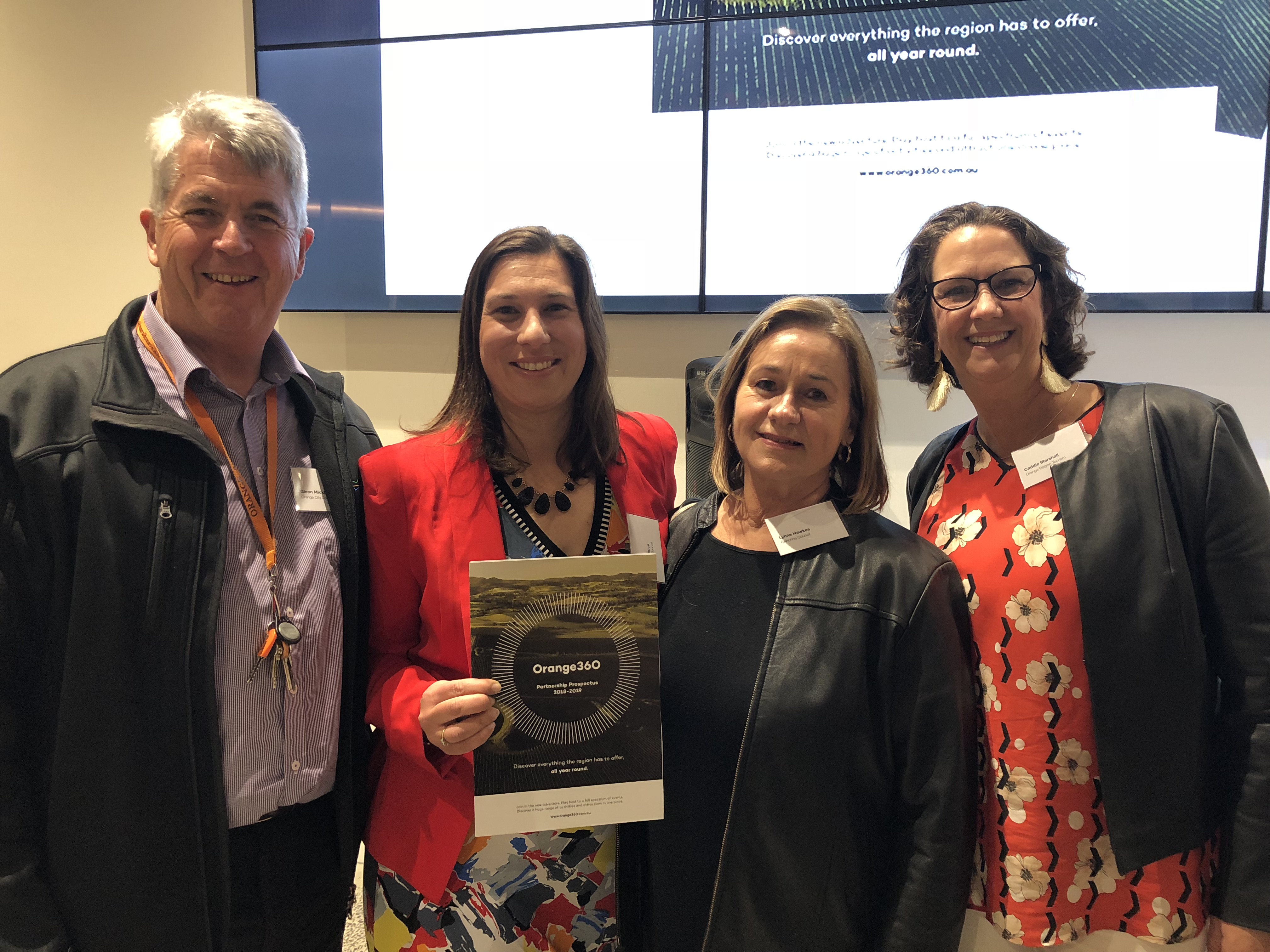 Tourism marketing in the Orange region is off to a fresh start with the launch of a new brand and organisation known as Orange360. Launched last Thursday at the Orange Visitor Information Centre, General Manager of Orange360, and local Canowindra resident Caddie Marshall, said that Orange360
represents a united all year round approach to tourism, promoting the Orange region as a distinct destination and gateway to discovering the surrounding historic villages.
"The tourism marketing brand for Orange has undergone an evolution through the years from Taste Orange to Brand Orange to Orange Region Tourism and now Orange360," said Ms Marshall.
"Orange360 encompasses everything that colours our region, all year round and for the first time is a collaboration between the local councils of Orange, Cabonne and Blayney and our surrounding villages."
"Orange360 is focused on driving increased visitation and economic benefit across the entire region. Over 1 million visitors already explore our region every year and the purpose of our new brand is to invite these people to further discover all the wonders and gems that are unique to us – our people, our places and our produce," said Caddie. "As we developed the new tourism brand, we actively consulted with and reached outto our community to learn how we defined ourselves and our landscapes. We also developed a brand reference group representative of the businesses across the Orange region including the wine, retail, food, arts, and indigenous sectors who provided local feedback."
"This extensive consultation resulted in a brand that will continue to support our tourism sector and volunteer groups that host our unique festivals that celebrate our history, our food and wine. It speaks to our foundation in gold and farming, and our landscapes awash with golden hues. We are deeply proud of our history, our villages and love to show off our landscapes and four distinct seasons."
"With such a diverse choice of activities, attractions and events across our region, a new website is under construction that will make it easy for visitors to navigate the full spectrum of experiences on offer. Whether they are coming to enjoy one of the region's marquee food and wine events, to experience our historic villages and authentic country lifestyle or to simply relax and unwind, it will all live at their fingertips," said Ms Marshall.
Orange360, together with each of the Councils, is also developing a Village Viability Strategy to support each Village Association to market and encourage visitation as well as improving links between each of the villages.
Cabonne Mayor Kevin Beatty said: "The launch of the region's exciting new tourism brand Orange360 is integral in uniting our three councils and establishing our unique identity as a major destination. Our cooperative working relationship in turn will help to identify the region and ensure it stands
out. This in turn will drive tourists to experience our region's many products, towns and villages."
The new Orange360 website will be ready in time to promote our regions spring offerings. If you are a business wanting to learn more about Orange360, membership for 2018/19 is now open and all local tourism service businesses are encouraged to contact the Orange360 team on 6361 7271.