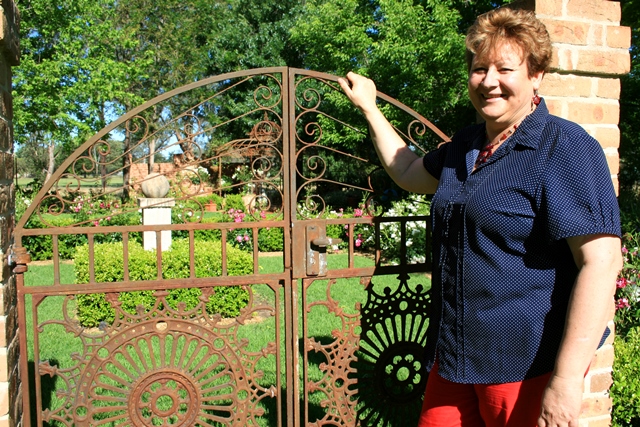 A combination of three months' hard work and this year's beautiful spring weather combined to make Canowindra's annual Open Gardens Day a fruitful success last weekend.
The event not only spotlighted some very deserving gardeners and their beloved creations but also attracted more than 200 visitors and their children and raised more than $3,000 for upgrading work on the Rodd Street skate park. There were a total seven gardens on show in Canowindra and in Gooloogong and visitors paid $15 to tour all of them. One of the most popular was Chris and Lorraine Daly's "semi-formal garden with roses and hedges" at 98 Rodd Street, which offered particularly creative ideas – gardens, arches and ornamental walls – for an in-town five acre lot.
As Lorraine and Chris describe it, "This residential block was originally an orchard and vegetable garden before the house was built 20 years ago. The house design, with surrounding verandas, maximises the northern sun in winter [and] the garden is semi-formal with Japanese Box hedges and Standard Seduction and White Iceberg roses in the front and along the driveway.
"A Pecan Nut tree at the end of the driveway is a feature and was planted around 50 to 60 years ago. The back lawn has a central square garden featuring Burgundy and White Bush Iceberg roses, planted eight years ago.The ornamental grapevine over the northern pergola provides another shady spot in summer and is striking in the autumn when the leaves turn several shades of red."
The open day was another triumph for organiser Ash Wright, and her devotion earned this glowing comment in Tuesday's Canowindra High School online report: "Ash Wright, you are a legend!"
Highest praise was also directed at 20 high school students and their parents who volunteered their help on the big day.
By Derek Maitland
IMAGE: Lorraine Daly and the gate to her beautifully designed central garden