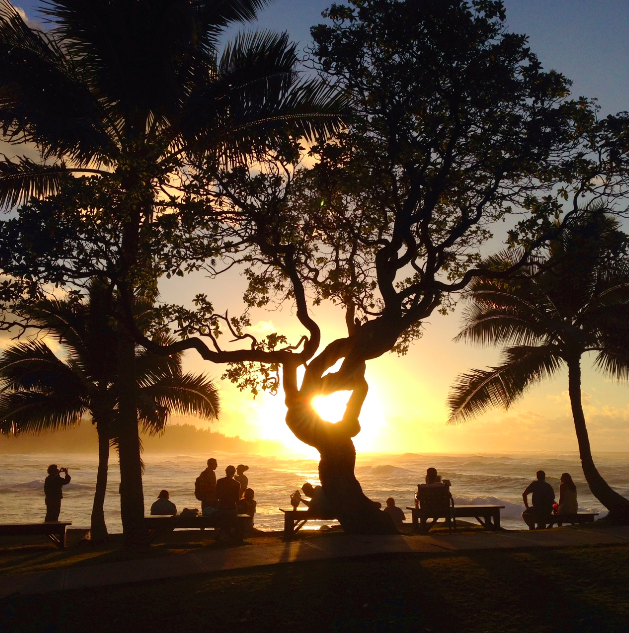 In Hawaiian, O'ahu means 'the gathering place'. This is not surprising, the island feels slightly more Asian than American and is a veritable melting pot of ethnicities, language, custom and cuisine.
Given the short period of time I was in Hawaii, I remained on the island of O'ahu which promised a broad range of experiences. There was the excitement of the 'city' in Honolulu but if you prefer a slower pace, do as I did and head straight to the fabled North Shore which is a 50 minute drive from Honolulu Airport.
Stretching for over 11 kilometres, the beaches along the North Shore are home to the world's major surfing competitions. During my visit the swell offshore peaked at 30 foot. It was spectacular to watch and has put the quaint nearby town of Haleiwa 'on the map' so to speak.
Be sure to visit the 'North Shore Marketplace' in Haleiwa. It is a small collection of local shops and art galleries showcasing Hawaiian culture.
On your way, stop at Teds Bakery at Sunset Beach. This local hotspot is a great option for breakfast or to stock up on sweet treats like their famous Chocolate Haupia Cream Pie.
It was great to see a lot of support for local producers. Farm stalls specializing in fresh fruits and local shrimp trucks dot the coastal highway. My favourite is without doubt Giovanni's Shrimp Truck. Not to be missed this local institution dishes up garlic and olive oil scampi with rice. Delicious.
After four relaxing days in Turtle Bay it was on to Honolulu. In an attempt to convey what iconic Waikiki beach is like I've adopted the summation, 'it's a cross between Las Vegas and Surfers Paradise'.
Like Vegas, this too is a city that doesn't sleep. Most shopping malls and stores are open until 11pm and restaurants and bars serve patrons until much later. Like Surfers Paradise, the main esplanade runs parallel to the beach, upon which hundreds of resorts and hotels have been established – offering something for everyone!
Despite the imaginable chaos, there is a very real feeling of Fun. Everyone who visits is there to have a good time, and they do.
The one attraction I would say is not to be missed is the USS Arizona Memorial at the World War Two Valor in the Pacific National Monument and the Pearl Harbor Visitor Center. To avoid the queues it is best to go first thing in the morning or to book tickets online via the US National Parks Service. Tours are free and extremely informative. The USS Arizona Memorial is uniquely both a memorial and tomb. 2,341 honored servicemen of the US Army, Navy and Marine Corp who gave their lives on 7 December 1941, are buried in the ship's hull over which the Memorial has been erected.
For those who have more time I'd also recommend heading to the 'big' island of Hawai'I. It's next on my list and is known as the island of adventure. Hawai'I is home to Kilauea, one of the world's most active volcanoes. Otherwise, Maui with its pristine beaches is also popular, repeatedly voted 'Best Island' by numerous publications.
General tips for getting around and about in O'ahu:
Hire a car if you're heading out of Honolulu – it is extremely affordable compared to prices here in Australia and makes it so much easier to get around. Most hotels and resorts offer self-parking facilities so you don't have to opt for valet.
Use the trams (known as 'trolleys') in and around Honolulu. Adult fares are $2 per journey/ one way and the routes take you to all the major spots.
Some favourites in and around Honolulu:
Pearl Harbor and the USS Arizona Memorial Tour – rated the #1 thing to do in Honolulu by Trip Advisor.
Waikele Outlet – outlet shopping like you've never seen it before. Located just 15 miles west of Honolulu you can stock up on anything you might need from head to toe, literally. Sunglasses to sneakers this is big brands at unheard of prices.
Dukes Waikiki – offers three beachside dining options and live music.
Doraku Sushi – a lovely restaurant in the heart of Honolulu.
Waikiki Starlight Luau – no trip to Hawaii is complete without partaking in a Luau. I highly recommend the Starlight Luau hosted by Hilton Hawaiian Village, it is feast of music, color, food, dance and Polynesian culture.