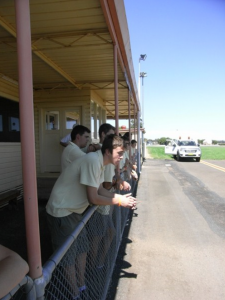 Year 11 students attended the RYDA day in Cowra. RYDA is a Road Safety Education Program aimed at equipping young people with the knowledge to stay safe on our roads. Presented over the course of a day, RYDA delivers six interactive sessions aimed at exploring crucial aspects of travelling safely.
The day was informative and at times confronting with talks from accident victims and their families, sessions on designing the ideal car, the effects of drugs and alcohol, driver instruction and stopping distances.
Pictured are Nick Perry, Sam Townsend and others who were watching demonstrations of the stopping distances which resulted when cars were travelling at 40kms, 50kms, 60kms and 80km/hr.
As usual the Canowindra High students conducted themselves in a mature manner and were a pleasure to take away. We would like to thank Rotary for their continued support of this valuable program.