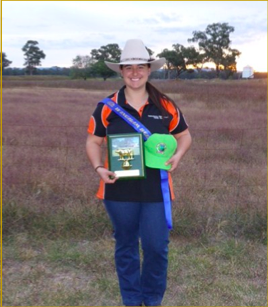 From the 12th to the 16th of May I participated at Wingham Beef Week. It is a week dedicated to learning, judging and parading cattle. This event is attended by many schools across NSW and there were over 200 competitors during the week.
We started each day at 5am. We had to wash and groom our cattle.
I participated in the under 16's parading event and achieved a result of 5th place out of 77 competitors. I also had the opportunity to do meat judging.
I was then selected to be involved in the Belinda Hobbs award. It is a unique and highly respected award presented at Wingham Beef Week. This is for students who show commitment and performance in Agriculture. Good mentoring and team leadership, it's for students that have vision and goals of their passion and future in Agriculture.
I was interviewed before a panel of highly qualified industry representatives, I received first place and won a ribbon, trophy and also $250 for the school Ag team.
-Brooke Said, Year 11 Ag student