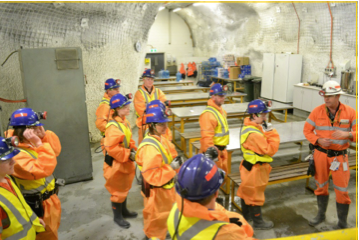 During the school holidays Regan Hughes attended a tour of Cadia Valley Operations. As part of his Minerals Education Bursary, scholarship holders have to attend a mining related activity.
Regan wrote the following report about the tour:
The group met at the control access room and went through all the safety procedures. Following this we went underground at Ridgeway. Here we saw the crib room and extraction point of the mine, we also saw the crusher and how the rocks travel up the conveyer belt.
The tour continued through the heavy vehicle work shop, looking at the massive dump trucks and boggers. After lunch we went through the mill looking at how they spilt the gold from the copper. The last stop was the control room which was called the 'brains of the mine,' from there they could control and see everything throughout the mine.