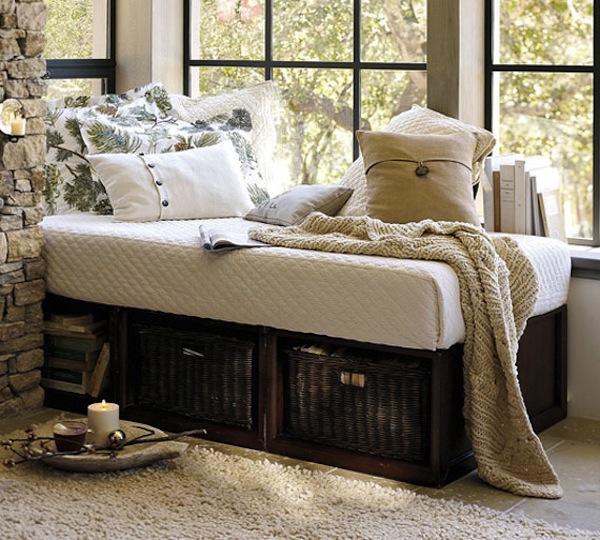 When the temperatures outside drop, the inside of your house can feel cold, stark and empty, especially after a long day at work. Bring warmth and style back into your home this winter with these cosy home décor suggestions:
Add texture: Use blankets, cushions and throws in cheerful colours and daring patterns to brighten the atmosphere of a dreary room. Transform your entire bedroom's atmosphere from dull den into a stylish haven of sleep by layering textured bedding, velvet pillows, knitted blankets and embroidered details. Put down a fluffy floor rug over bare tiles or floorboards, adding warmth and texture underneath your feet – a great way to keep some heat in and brighten a room for winter. The classic sheepskin rug is another great way to add a textured element to any room, as well as adding more of that much needed warmth. They look great on the couch as a throw, and are a soft, cosy place to put your feet as you get out of bed on a wintery morning.
Maximise your natural light: Use whatever natural light you have available to your advantage by using mirrors on blank walls, above the fireplace or opposite windows. By reflecting natural light the space in your home will be extended. Using mirrors with bold or textured frames can add a nice dramatic effect.
Layer up: Increase the cosiness of a room with layers. Using simple slip covers to cover your dining chairs can add warmth and style to any neutral dining room. Get covers that are easy to take off and put through the washing machine. Block the chilly window drafts with thick drapes in a solid colour which can flatter patterned shades. These can be replaced with thin drapes or removed altogether when the weather warms up again.
Get colourful: Mix it up with a collection of unique and stylish cushions and pillows that accent the existing décor of the room. Pick a colour scheme and compliment it with cushion covers flaunting patterns and a thoughtful variety of hues. As the hearth becomes the biggest focus of your living space, give your fireplace a facelift with a lick of paint and an ornate fire screen which will add fresh style and warmth to the room.
---
If you are looking to renovate your home or thinking to build a new house altogether, there are many fantastic businesses in the Central West that will happily assist you, whatever your needs.
Green Homes Australia in Orange is a locally owned and operated business specialising in ways to make your home more energy efficient. They use practical and realistic construction and design practises, as well as everyday materials. There are no expensive building methods or pricey 'green' materials required. Mick at Green Homes Australia has been a builder in the region for nearly 20 years. He was involved in the local Ronald McDonald House project, implementing his green building know-how throughout the process. "Green Homes Australia is about taking standard materials and building everyday homes that are designed to be exceedingly energy efficient, without having to rely on expensive add-ons."
Amber Orange is the newest addition to the Amber Team across Australia with their largest store yet. They have indoor and outdoor tiles, pavers, natural stone and even mosaics. Amber Orange staff can provide their customers with personalised cost effective solutions for both indoor and outdoor home areas.
Blinds can add a touch of sophisticated convenience and elegant simplicity to any room. Phil's Blinds & Awnings in Cowra boast a massive range of blind and awning designs, which are made to order, and to suit your home or business needs. Focusing on professionalism and building strong business relationships, this company takes pride in being a locally owned and family run business with an abundance of knowledge and experience.