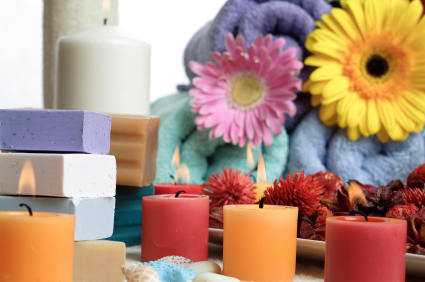 How to make your house go from smelling funky to fab…
How many times have you headed home after a hard day's work, opened the kitchen door and spent the next five minutes walking round with your nose stuck out trying to locate the culprit of the funky smell like some sort of smelling detective? You sniff, you search and you're stumped.
Your house can be full of all sorts of things that can make it smell anywhere from funky to downright rank, especially in the summer when the heat can help things fester that much quicker. When an area of your house smells bad it's tempting to Oust until the can is empty or light a scented candle but these merely cover up the smell temporarily without getting rid of the underlying stink.
So if something smells fishy around here and it may not be a fish, try these easy, natural and homemade remedies to help deodorize and freshen your home for good!
Simmer Pot Air Freshener
For a long lasting aroma that permeates the entire home, use this simmer pot recipe. Perfect for winter to create a warm atmosphere or in the summer to control the sweaty smells that seem to emanate from everywhere. Mix and match your ingredients to suit you:
•1 orange, sliced
•1 lemon, sliced
•2 cinnamon sticks
•4 whole cloves
•1 bay leaf, fresh if possible
Put these ingredients into a slow cooker with around 3 or 4 cups of water, set on low and let it simmer all day. Leave the lid off to let the vapours into the air.
Homemade Gel Air Freshener
This one is good for clumsy husbands, rowdy kids and crazy pets as this air freshener is in gel form so it can't spill! You will need:
•20 drops of your favorite essential oils
•4 packets of plain gelatin
•2 Tablespoons salt
•Water
•Empty glass food jars with screw-on lids
Bring 1 cup of water to a boil, remove it from heat, and gently stir in the essential oils and the salt. Continue stirring while carefully sprinkling in the gelatin. Once dissolved, slowly stir in 1 cup of cold water. Do not stir this vigorously or it will foam up and create a cloudy gel. Carefully pour gelatin mixture into each jar and sit for around 2 days or until set. These will smell strong at first but will mellow with time.
When you want to use one of your gel air fresheners poke some holes in the lid and decorate to give a more personal touch. To make things colourful, add some food dye to the boiling water!
Easy to make and natural home deodorisers are the way forward. Better for your family by breathing in fewer nasty chemicals and you can keep your house smelling sweet without spending a fortune! We're off home to give these a try!