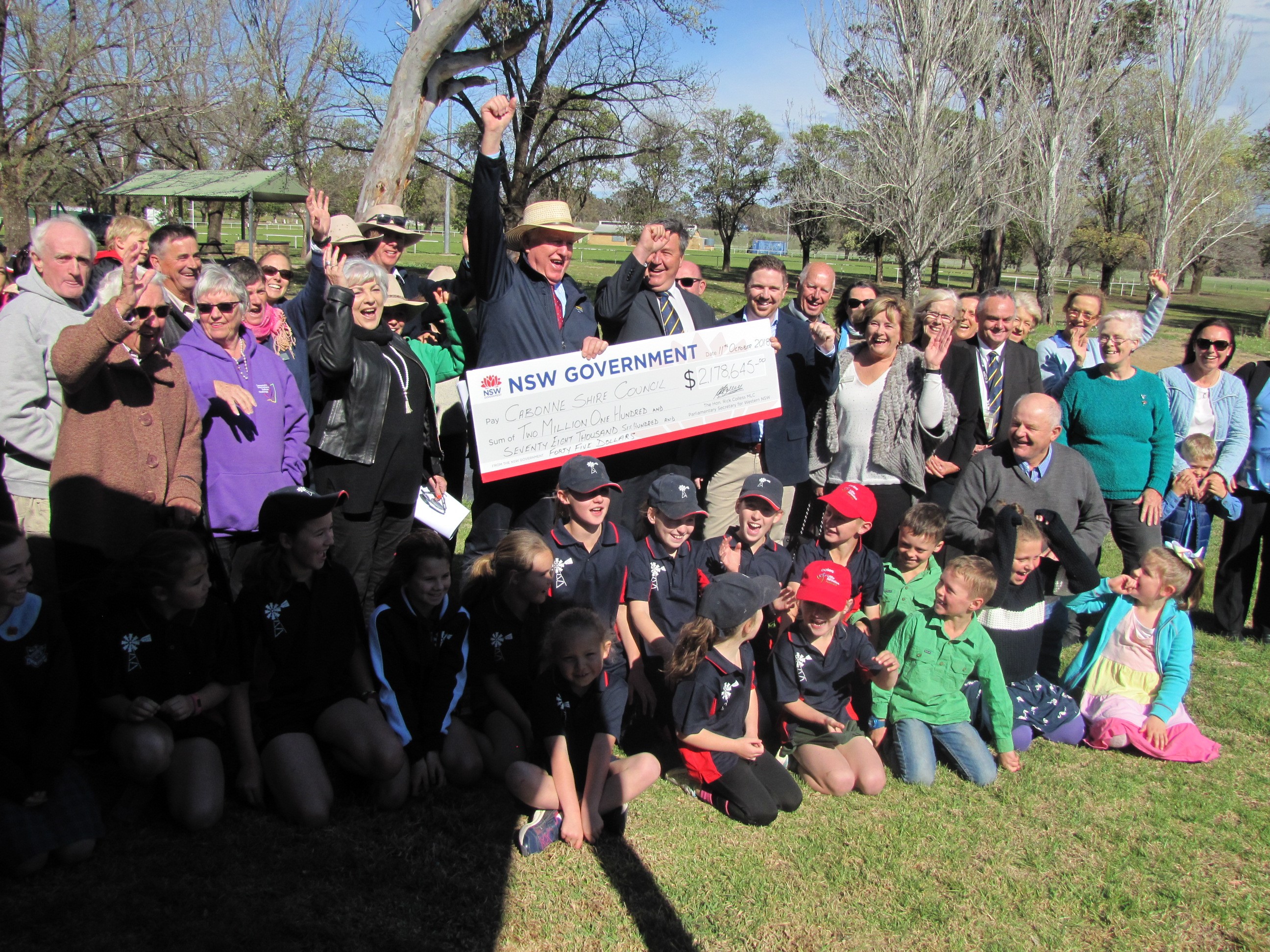 Eight Cabonne Council projects have received more than $2 million from the NSW Government in what the Mayor has described as a once-in-a-generation funding boost for the village of Cumnock.
Accepting a cheque for $2.17m from Rick Colless, the NSW Parliamentary Secretary for Western NSW, Cr Kevin Beatty thanked the Government for making an amazing investment in the Shire's future.
Almost $1m will go to two projects at Cumnock, where a large crowd gathered for the announcement last Thursday 11 October 2018. The allocation of $2,178,645 through Round Two of the NSW Stronger Country Communities fund will breathe new life into community and sporting facilities across Cabonne Shire, including:
• Cumnock Village Recreation Precinct Landscape Masterplan: $496,222
• Cumnock Showground Pavilion Extension: $446,250
• Cudal Community Children's Centre Expansion: $228,819
• Canowindra Challenge Showground Upgrade (Stage 1): $222,004
• Cabonne Small Villages Shared Mobility Access Pathway: $219,240
• Canowindra Shared Mobility Access Pathways: $219,240
• Molong Early learning Centre Expansion: $214,888
• Molong Village Green Revitalisation: $132,000.
Mr Colless said country communities were the backbone of NSW, and by investing funding into much needed projects such as these, the Government was making regional and rural economies and the state stronger.
"Local projects make a huge impact on communities, boosting local business and community cohesion," he said. "Under this initiative projects range from
small to large, and each one is as important as the other. Every project is about bolstering our country areas and ensuring they continue to grow and contribute to our state. This program is about bringing communities together, strengthening and supporting our social connections, and creating vibrant rural and regional communities for the future," said Mr Colless.
Cr Beatty said Cabonne had benefitted greatly under Round One of the Stronger Country Communities Fund, and this further funding would have a big impact on the Shire's growth.
"Programs such as this contribute enormously to rural areas, such as Cabonne. They support communities by providing funding for much-needed amenities and services, which are sometimes forgotten about in country areas."
"In Cumnock's case, this funding will provide outstanding community and sporting facilities not only for today's residents, but generations to come."
Cr Beatty congratulated the community organisations that submitted successful projects and urged those who were unsuccessful to continue to liaise with Cabonne Council to source alternative grant funding.
All four councils in the Orange Electorate have received more than $5.7 million combined under the Stronger Country Communities program, with a total of 22 projects being funded.
Deputy Premier and Minister for Regional NSW John Barilaro said the roll-out of the second round of projects takes Stronger Country Communities funding to $300 million. "The program is part of the NSW Government's $1.6 billion Regional Growth Fund that is employing local tradies, putting local suppliers to work and providing the right environment to operate regional businesses," he said.