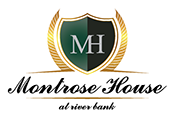 Hello readers and welcome to this month's column and rug up its winter! Have had all the fires going at Montrose to stay lovely and warm.
Started June with a fabulous blue themed birthday cocktail party for a dear friend and local girl, Rach Arnott. 60 people enjoyed the canapes and mimosa bar and the fabulous "Blue Cake" made by good mate Mandy Townsend.
On Monday 4th June the Age of Fishes Volunteer Dinner was held with a wonderful group enjoying a delicious meal and surroundings here at the house.
Wednesday 6th June I had the honour of doing the catering for the launch of the Garden & Montgomerie new business premises. 60 people enjoyed a spread of lots of tasty assorted canapes and drinks, great night for this very successful firm.
On the long weekend I had a house full of the most delightful group of friends and family. This happy crowd from Mollymook are relatives and friends of Muzz from Muzz's Meats and his gorgeous girl Bec.
I attended the St Eddies Bogan Trivia Night on Saturday 16th June organised by Mandy Townsend and crew, great fun night and soo much flannel! With a great amount raised for the school – congratulations!
This week we are hosting a cocktail party for 60 in conjunction with the Library to show Verdi's Requiem, it should be fabulous. There will be lots of beautiful food and sangria should warm the crowd up and this beautiful set of music appeals to all.
Don't forget also if you love Xmas in July, we are doing a White Winter Luncheon on Sunday 22nd July – $35 per head and includes
canapes on arrival, traditional yuletide feast of roast turkey and Virginian ham with all the trimmings and a beautiful hot Christmas pudding with custard and cream and tea and percolated coffee and Christmas cake to finish. All you have to do is book on 6344 1006 and bring a drink.
Next week on Tuesday 26th June I am hosting the Orange Tourism Office for a complimentary luncheon to promote Canowindra to their staff.
Take care and look after yourselves and rug up, its brass monkey weather!!!
Love Tommy xxx