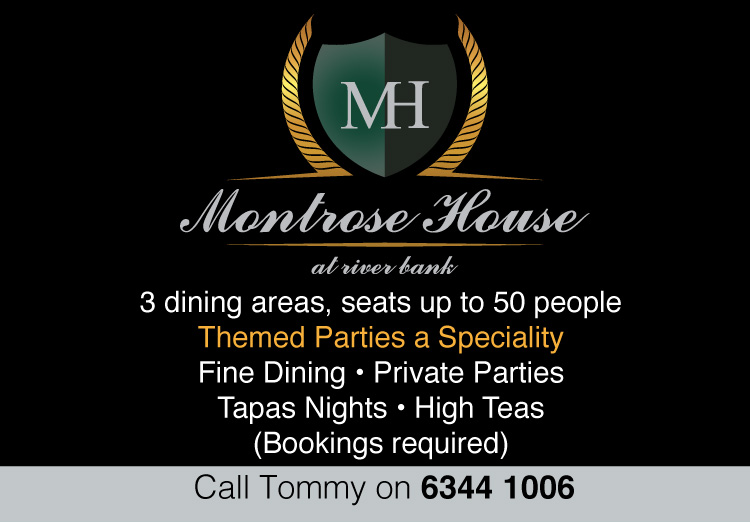 Hello readers welcome to this month's column!
We have had a lovely couple of weeks with Yuletide being taken right into August, finishing with a group from a well-known Film Company booking a special Yuletide Dinner last weekend.
They were here to check out our local area, they are thinking of doing a film here next year and wanted to get the lay of the land. They loved their stay at Montrose, loved the people especially, but hey what's not to love!
Also had my best friends from Port Macquarie staying for a couple of days, they arrived on Wednesday and it was a balmy 18 degrees then weather went to hell after that, they couldn't wait to head back to warmer climates on Saturday.
Had a journalist from Outback Magazine staying the weekend before, showed him the sights and took him to The Royal for a wonderful hamburger and he loved it so we should get a good write up for that.
Had a couple of smaller groups for the Yuletide Dinners which were very successful with people coming from Cowra, Orange, Eugowra and Dubbo. All signed in and sanitised, so following all the Covid-19 guidelines.
With the warmer weather nearly upon us hoping to get everybody on board for some clean-ups around town.
The Swinging Bridge, needs some attention. We did a bit but the floods last week caused some mess, Council has fixed the lights on the other side so it's safe to walk in the evenings now. We just need to do a clean up and take the rubbish away.
I have also been doing bits and pieces at the local Cemetery, but the weather has been shocking. Can we do a get together on Sunday 6th September at 12noon starting at Swinging Bridge and then the Cemetery, any suggestions would be appreciated.
Lions Club will supply a BBQ so it's a community thing, what does everyone think?