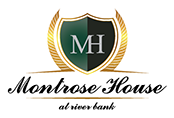 Hello Readers,
Welcome to this month's column from Montrose House.
We have had a wonderful couple of weeks, the Balloon Festival weekend was a really wonderful experience, busiest in 5 years they tell me. We had Melbourne visitors and they were so impressed they have booked the whole house next year. We did a gorgeous balloon lunch on Saturday and a late evening candlelit supper after the Balloon Glow and both were booked out.
The Easter weekend was also sensational, lots of visitors. I had a seafood luncheon Easter Friday for friends. Saturday we had a birthday dinner for the Edward's family and on the Monday night I hosted my Lions Club dinner which was great, a good happy crowd of mixed couples.
Last weekend was busy with a British crew from the Consulate in Canberra for a luncheon and a big birthday dinner on Saturday night – That's why the British flag was flying over Montrose folks!
We are now taking bookings for our scrumptious Mother's Day at Montrose Luncheon on Sunday 8th May. This will be a beautiful occasion with fine china, linen and flowers and a champagne on arrival for all the mums. Limited numbers are available so book with me at the Deli Lama on 6344 1006 and treat that very special lady to a wonderful experience and show her how much you appreciate all that she does for you.
The 'Queen's Club' luncheon is on Thursday 28th April from 12 noon, those who are interested in going to this lovely day please book with me at the Deli. Will be great company, delicious food and good stories. Only limited numbers are available so try it out, you will enjoy the ladies company, good jokes and special atmosphere that only Montrose House can provide.
Have a great month, remember a smile a day keeps the clouds away.
Cheers, Tommy x