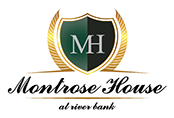 Hello Readers welcome to this month's column. April was so busy I couldn't even get a column done with Easter Weekend, Balloon Week and Anzac Day all busy with the house full. I went to the Bathurst Races on Anzac Day and won best dressed so was very pleased.
Mike and Joy Bonnor from Cowra celebrated their 50th Wedding Anniversary  with a formal 'Downton Abbey' themed dinner on 20th April with their family. It was a  beautiful night and everyone looked fabulous.
The Patterson family stayed in four rooms at Montrose House and were a joy to have here, loved the whole festival feeling with lots of visitors around town.
May 4th was the Boorowa Picnic Races where I won Classic Gentleman so I was very pleased with that.
On Saturday 11th May the Buchanan family from Dubbo booked me out and hosted a black tie dinner for an intimate group of family and friends. It was a retro dinner of delicious canapes, beef wellington and a Bombe Alaska to finish which set the fire alarms off when I poured the flaming brandy over the top haha.
Sunday 12th May was a full house for my Mother's Day luncheon with lots of people from Cowra, Forbes and Orange. The house was dressed floral themed throughout to match the theme around town. At 3pm I MC'd the fashion parade held at Finns Store which was a full house of really happy, fun people enjoying the fashion and frolics. I was a bit naughty and played up to the crowds, even putting on one of the outfits with a cone light shade!!!
I have to say I am very proud of the way the town came together for the 'Floral Themed' Mother's Day. Huge congratulations to Matty and the Chocolate Shop for the fabulous photos and promotion of the town and the way the shops came on board and dressed their windows. My three favs were Rockstar, the Phoenix and the Pharmacy. We need to keep the momentum going, it makes our town stronger and happier and brings lots of visitors to town.
Take Care, love Tommy x