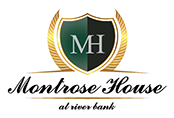 Hello Readers and welcome to the last column of the year and haven't we been busy little beavers here at Montrose House. Lots of rain so the garden has been perfect for all the Christmas soirees inside and out of Montrose House.
As you can see I really have got into the festive spirit, I mean I always do but this year is really over the top! Two Christmas trees and lots of red and gold, all my parties (24 in total) and guests have really appreciated the colour, music and festive cheer in abundance at the house.
We have had lots of groups from Forbes, Eugowra, Gooloogong , Cowra, Young, Orange, Bathurst and parties from Canowindra, good time had by all. We have 55 people for Christmas Day coming from as far as Yass, Orange, Young, Cowra and Forbes. I plan to make it absolutely fabulous, lots of fresh seafood, roast seasoned turkeys and baked hams with all the trimmings, finishing off with trifles, pavlovas and Christmas pudding and cake.
Looking back on 2018 it's been my busiest year yet absolutely flat out with the B&B, dinners, parties and I also took on a sponsorship with Canowindra Tigers and became a patron of Cowra Ballet School which is going great guns with their concert this month with 156 kids performing.
On a more sombre note, lost three of my favourite people in the world this year. Great mate Patty Grant who loved a beer with me, the absolutely gorgeous Ailsa Payten "Canowindra's Grace Kelly", a lady of class and a beautiful gentle soul. The most shocking was my gorgeous friend Stephie Watson from the Royal Hotel. The news has been devastating to me, her family and all that had the pleasure and honour of meeting this beautiful soul, gentle and always
with a smile. You shall be sorely missed in our town.
Heaven has gained three special souls up there. Patty will be organising the bar, Steph will be cooking up her fabulous food and Ailsa will be making sure the tables are perfect and elegant.
Have a wonderful Christmas and a healthy, Happy New Year.
Love Tommy x