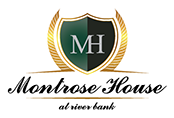 Hello Readers, welcome to this month's column and aren't we in the middle of winter! Had all the fires burning brightly at Montrose and decorated the house in lots of white and silver for Christmas in July which looks wonderful. Also decorated Pip's window at the second-hand shop as well as IGA and Foodworks windows. I do love getting in to the Yuletide spirit and must say the main street looks brilliant!
Started the month with a house full for Father Charlie Rue's big gathering weekend. Dinner was at The Old Vic Inn followed by Mass on Sunday – delightful.
Thursday 5th July I held a wonderful Irish luncheon for a bunch of visiting Irish visitors with cauliflower and bacon soup, Guinness pie and Bailey's brulee on the menu and a good day enjoyed by this happy, rowdy crew – begorrah!!
Isabella Vess's Black Tie dinner for her 50th was celebrated on Saturday 7th July with 36 very elegant people from Orange, Dubbo, Bathurst and Canberra dining on seafood, beef wellington and a croquembouche with lots of dancing afterwards.
This week the Torsion dancing group from Cowra and their parents are joining me for lunch to celebrate me becoming patron of the Cowra Ballet School. The Torsion girls have always helped me with all my shows and have been fabulous. My support and financial backing will make things easier for
them as well.
Lots of dinners for Christmas in July with 45 ladies from Orange Probus Club this week and my annual luncheon held on Sunday 22nd July which is totally booked out with lots of people from Cowra, Forbes and Orange attending. The following week on the 25th the Canowindra Garden Club ladies will be having their Christmas in July luncheon and that evening a bus group from the Cowra Motor Inn will be joining us for dinner.
I love the window decorating idea, great competition organised by the Phoenix. I've noticed lots of visitors from around the district coming to town to check it out and they are spending in town which is wonderful for our community.
Happy Yuletide Everyone!
Love Tommy x