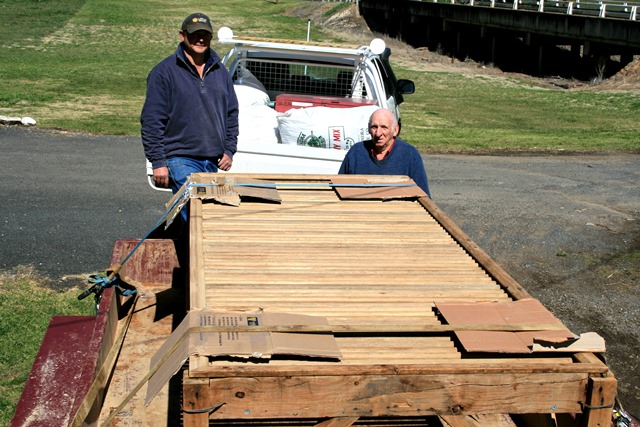 The Canowindra Men's Shed had something to celebrate over the weekend. They turned a 100-year-old wool table over to its owner after spending more than a month rebuilding it from a literal pile of old timbers tied with wire.
Wool tables are still used in the industry today, proving how well this old method works. Once the shearer has removed it, the fleece of a sheep is thrown, clean side down, onto a wool table by a shed hand. Wool table tops usually consist of slats spaced 12 centimetres apart. This enables locks and other debris to gather beneath the table
Cec Balcombe presented the table to Nils Jacobs to take back to Forbes where he and his wife Sarah will oil it and cover it with a coloured glass top to become their new dining table. Nils says the table came from the old Neuah Homestead and, while it had fallen to pieces, only two of its 54 rollers on which newly sheared merino wool moved for inspection and trimming had to be replaced. Cec Balcombe says the hardest part of the rebuilding job was "cleaning a quarter-inch of wool grease that had built up on the rollers over the years it was in operation." Other than that, they left the timbers pretty much the way they were when the table was discovered. Yet another fine working relic of our rural history and another triumph for our Men's Shed carpenters.
By Derek Maitland
IMAGE: Cec Balcombe and Nils Jacobs prepare the restored wool table down for its journey to Forbes.