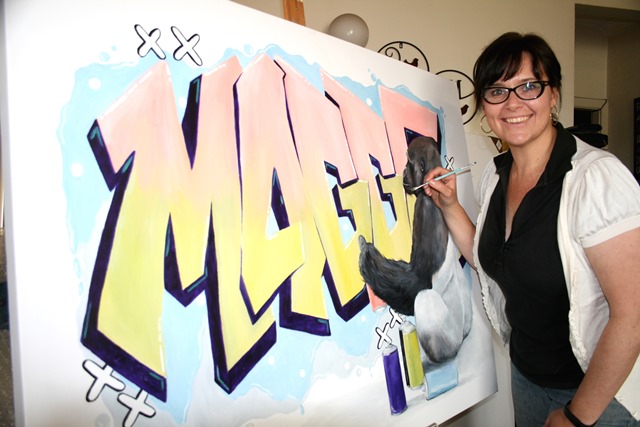 Canowindra artist Melissa Gersbach is opening her own boutique, Magge Designs, at the end of this month, joining the growing ranks of professional artists who are turning their creativity into business to support their passion.
Magge Designs will be a pop-up store, opening initially for two months to test the market for what Melissa calls "walking canvasses, making my art more accessible to people" – products that include "T-shirts, mugs, prints, caps, cushions and more."
Melissa also sees the store as "my latest launch" in a lifelong artistic career, starting when she was "a little girl," that's presented her with a number of major challenges.
"I began painting flowers – big bold colours – then took up landscapes for several years, replicating the rural images around Canowindra," she says.
It was a "comfort zone," she says, that was shattered when she applied to have an exhibition at the Orange Regional Art Gallery and was turned away because she was self-taught and had no "qualifications."
That led her in 2012 into a three-year art diploma course at Orange TAFE in which the acclaimed artist-teachers Victor Gordon and Neil Cuthbertsen made her throw away her fine art brushes and forced her to spread her wings.
"I came out the other end thinking I can't just do landscapes any more," she says, and the evidence of that dramatic reincarnation was on show recently at Cowra's Japanese Garden Cultural Centre – bold semi-abstract renderings of what she calls "animals doing human-like things" which include a panda eating a cupcake. "My first painting was an elephant, and I put an iPad, for example, under it. It just seemed to be the obvious thing to do, and from there my creativity just exploded." You'll see a lot of Melissa's new artistic explosion at Magge Designs, which officially opens at 6.30pm on Friday October 31 at 66 Gaskill Street.
By Derek Maitland