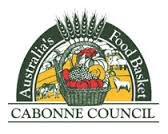 To assist local businesses during the prolonged drought, Cabonne Council will waive its fee for local businesses to participate in its Made in Cabonne Pavilion at next month's Australian National Field Days.
Each year, the Council invites smaller businesses within the Cabonne Local Government Area to be part of its display at the Field Days. The aim is to provide Field Days patrons with a cross section of the products, services and attractions available in Cabonne and to assist smaller businesses who may
not be able to afford to have a stand in their own right.
For $50, the Council has provided Made in Cabonne participants one vehicle pass and two exhibitor passes that can be used for the three-day event.
However, with many businesses experiencing a downturn in trade during the drought, the Council this year as a one-off gesture will make the exhibitor and vehicle passes available free to those who wish to exhibit in its pavilion. Additional passes will cost $8.80.
The Council's Community Engagement and Development Manager Dale Jones said the move was another small way in which the Council could provide some drought relief.
"We know that, along with farmers, many businesses are also feeling the crippling effects of this drought and hopefully this gesture may encourage local operators to be part of our Field Days promotion," he said.
Places in the Made in Cabonne Pavilion are allocated on a first-in basis and any small business that wishes to participate should contact Mr Jones on 6392 3200 or  email council@cabonne.nsw.gov.au by 30 September 2018.