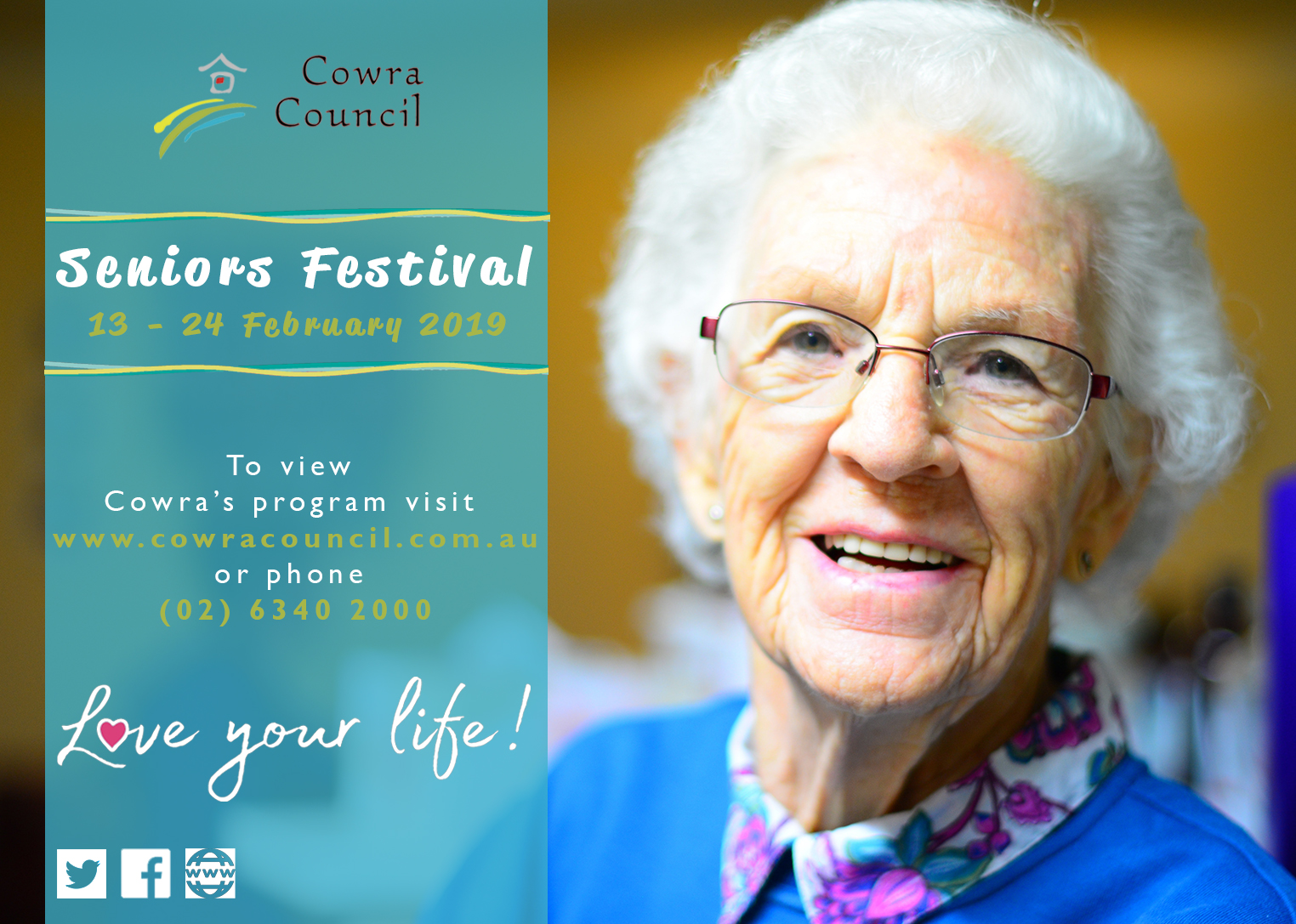 A pool party and services expo at the Cowra Aquatic Centre on Wednesday 13 February with morning tea, BBQ lunch and entertainment all free to Senior's card holders will kick off a jam-packed program of events for Cowra's 2019 Seniors Festival.
Local seniors are being encouraged to enjoy new experiences, continue learning and impart their skills, as part of the 2019 NSW Seniors Festival which will run for 12 days from Wednesday 13 February to Sunday 24 February 2019 across NSW. With the theme 'Love your Life', the festival celebrates older people in the community and encourages them to live active and connected lives
"On a local level, the Cowra Seniors Festival covers a range of fun cultural, social, sporting and cinematic events, with something for everyone," Cowra Mayor, Councillor Bill West said. "We've got some great events on the program, including barefoot bowls, a high tea, a free movie screening and craft workshops, along with the annual trivia challenge and seniors lunch — there will be something for everyone!" Cr West said.
"Seniors are an increasingly-active and respected part of the community. This year's Cowra Seniors Festival program will see our senior residents inspired to try new things, socialise, share skills and keep doing the things they enjoy, together," Cr West continued.
"The variety of activities wouldn't be possible without the support of several local organisations — Cowra Senior Citizens Group, Cowra Special Needs Services, Cowra Information and Neighbourhood Centre, Cowra Art Group, Cowra Community Health, Cowra U3A, Cowra Services Club, Meals on Wheels, and Cowra Bowling Club all actively contribute to this program of events.
"It's a testament to Cowra's community spirit to have such great partnerships that allow us to present this wonderful program of events," Cr West concluded. For more details on all Seniors Festival events happening in Cowra visit www.cowracouncil.com.au, or contact Community Projects at Cowra Council on tel. 6340 2069, email: communityprojects@cowra.nsw.gov.au.