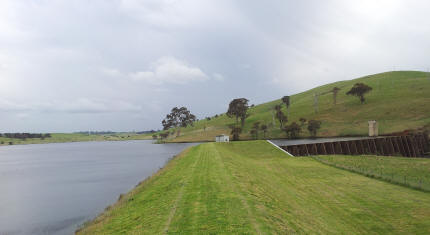 Minister for Regional Water, Niall Blair, announced on Monday that the NSW Government will be committing $850,000 for the preparation of a final business case for a pipeline between Lake Rowlands and Carcoar Dam.
Lake Rowlands is the dedicated town water dam on Coombing Creek owned and operated by Central Tablelands Water (CTW).
CTW Chairman David Somervaille said: "The concept is a simple one. Surplus water is transferred from Lake Rowlands and stored in Carcoar Dam, only about 10kms away. It is then available to supplement drinking water supplies for the towns and villages connected to the CTW network, provide additional water for irrigators along the Belubula Valley and improve the regularity of flows of environmental water."
The idea has been discussed by Central Tablelands Water with Water NSW over the last few years. It was included in the Lachlan Valley Water Security Study and is one of the projects identified in Water NSW's 20 year infrastructure plan. "Not only does the project offer improved water security outcomes on all fronts, but it is a great example of State and Local Governments working together. It is good to see urban water being included as an integral part of regional water planning," said Mr Someravaille.