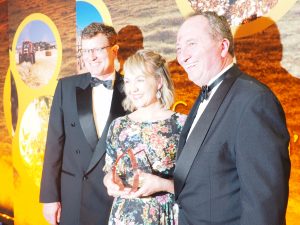 Local farmer, author and food blogger Sophie Hansen has won the 2016 Rural Industries Research and Development Corporation Rural Women's Award.
Mrs Hansen, who runs the Mandagery Creek Venison farm and kitchen just off the Cargo Road between Cargo and Orange, received her award from Deputy Prime Minister Barnaby Joyce in front of 300 industry
leaders, parliamentarians and award alumnae, at a ceremony a Parliament House last Friday night.
Mrs Hansen is an entrepreneur who captures her own life on the land and teaches farmers how to connect Australians with fresh, locally-grown and seasonal food. She was nominated as a finalist for the award by Member for Calare Andrew Gee on the back of the success of her project- 'My Open Kitchen'- in February.
Each applicant of the award was required to submit work of a chosen project that aimed to drive regional primary industries. 'My Open Kitchen' is an online learning course assisting food producers to embrace the power of social media to share their food stories and connect with consumers, and as part of her award, Mrs Hansen received $10,000 to further develop her project.
She said her goal was to support Australian farmers to better source their produce. "My ever-constant goal is to support and celebrate Australian farmers by encouraging consumers to seek out their produce as directly as possible, then cook and share it," she said.
Mr Joyce said Mrs Hansen had "championed the beauty of life in country NSW" through her work.