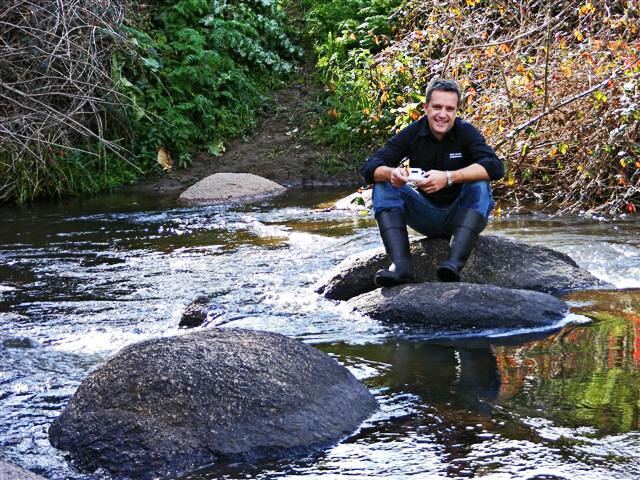 Twenty minutes out of Bathurst, Peter Harrison is roasting coffee beans for busy cafes and thirsty coffee enthusiasts all over the Central West. The boutique coffee company is a tribute to his enthusiasm for the perfect coffee, no matter how you like it.
Peter's love affair with coffee began after moving overseas in the early 90's and working in the hospitality industry in London. Peter met up with some Italians who taught him how to make good espresso, and a passionate Kiwi who just loved coffee. His fate was sealed.
In 1999, two years after returning to Australia, Peter began roasting coffee in his Bathurst café, which really got the customers' attention. He moved his family to Fish River and there evolved the brand Fish River Roasters, which has taken out an incredible 15 awards, and includes Fairtrade, chemical free and organic blends. It is easy to see why customers keep coming back for more: a high quality, local company with an interest in sustainability.
All over the region, the distinctive smell of fresh roasted coffee is wafting from café doors and windows. Whether you're bleary eyed and on your way to work or a coffee lover on a mission to find the perfect brew, many people claim they cannot live without their daily caffeine hits.
The last time anybody looked, average Australians consumed 2.4kg of coffee a year, or about 9.2 cups a week, spending an average of $165 annually on their brews. With the chilly season upon us, those statistics will no doubt increase, for who can deny the comfort of a warm cup of coffee between cold hands on a wet or frosty morning?
Fish River Roasters offer a tantalising range of coffee to choose from, such as the highly competitive and custom Tiger Snake Blend – medal winner at the Golden Bean Competition, and cultural flavour combination. Peter doesn't stop at coffee either. He also sells from a long list of tea, chocolate goodies and chai for those who aren't big coffee fans.
These beans are a must-try for any coffee connoisseur, and anyone with a passion for local produce. You can find the Fish River roasts in many cafes across the Central West, including the Canowindra's Deli Lama.